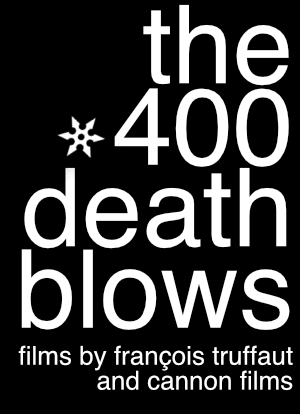 Back in 2016 I did a review series where I alternated between Francois Truffaut's five Adventures of Antoine Doinel films and Cannon Films' five AMERICAN NINJA films, trying to keep the same open mind toward both, look for parallels, etc. I referred to it as Antoine vs. Ninja at the time, but now I like to think of it as The 400 Death Blows. Although I'm way more of a ninja guy than a French New Wave guy I think it's good to try out a broad spectrum of art and not be put off by some other dip shit's perception of what is supposed to be high or lowbrow or too trashy or too arty for little old you. Fuck that guy. You're not that simple. You can appreciate all kinds of things.
The premise of this review series alone is just such a good encapsulation of what I aspire to be as a film critic and viewer that I wanted to make this post linking to all of the reviews so I could share it easier. Enjoy!
1. THE 400 BLOWS (1959)
2. AMERICAN NINJA (1985)
3. ANTOINE AND COLETTE (1962)
4. AMERICAN NINJA 2: THE CONFRONTATION (1987)
5. STOLEN KISSES (1968)
6. AMERICAN NINJA 3: BLOOD HUNT (1989)
7. BED & BOARD (1970)
8. AMERICAN NINJA 4: THE ANNIHILATION (1991)
9. LOVE ON THE RUN (1979)
10. AMERICAN NINJA 5 (1993)
This entry was posted on Saturday, September 10th, 2022 at 11:49 am and is filed under
Blog Post (short for weblog)
. You can follow any responses to this entry through the
RSS 2.0
feed. You can skip to the end and leave a response. Pinging is currently not allowed.