I don't know what my problem was, but I didn't dig on GLADIATOR like everybody else did, and for some reason I was bitter about it and skipped most of the Ridley Scott movies after that. But like the typical SCARFACE-loving American male I couldn't resist AMERICAN GANGSTER, and that's when I realized the error of my ways. So predictably my post BAD LIEUTENANT fascination with Nic Cage sent me back to catch up on Mr. Scott's con men movie.
Cage plays Roy and Sam Rockwell plays Frank, two grifters we first meet in the midst of scamming an old lady by calling up and telling her she won a contest. I must be getting soft in my old age because seeing it open that way made me wonder if this movie was gonna be too unpleasant to watch. We all love a good con job in a movie, but telemarketing scams on the elderly? Usually not as fun. Fortunately it gets more complicated when they show up at her house pretending to be FBI agents after the people who scammed her and take advantage of her hotheaded husband. The more complicated it gets the less moralistic we become as an audience. We would cheer on Ocean's 11 even if they were stealing from orphans, as long as they had to use a tunnel and dress up in uniforms. Or that's one theory, anyway.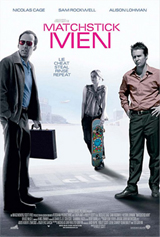 But Roy's fucking up and he's not happy. He's got alot of problems and he's low on the pills that keep them under control. He's got some serious obsessive compulsive behaviors, including but not limited to extreme cleaning, opening and closing doors a set number of times, involuntary bodily movements and phrases he repeats to himself.
Frank convinces him to see a psychiatrist, and this is what turns it into a movie. The quest to take control of his life leads him back into his past traumas, and ground zero for that is the girl who left him years ago, who, it seems, then gave birth to his daughter Angela (Alison Lohman from DRAG ME TO HELL). Frank meets Angela, next thing you know she's fighting with her mom and invites herself over to his place, where he tries to figure out how the fuck you're supposed to do this whole "dad" thing. And also be a con man. It's about their relationship, but not too sappy.
Not right away, but eventually, he lets her take part in his scams. Reluctantly, and then to teach her a lesson, and then out of desperation. It scares the shit out of him, but makes him proud when he sees how good she is at it.
Lohman's really good, too. Since I really only know her from DRAG ME TO HELL, where she plays a young professional, it's funny to see her not that long ago riding around on a skateboard and skipping around the house eating Ben and Jerry's out of the carton. But she pulls it off.
This is definitely one of Cage's best performances. He's doing all these tics – a blink of his left eye, a head jerk, closing doors three times and counting it off, a weird gulping sound, a satisfied mm-hmm to himself – but he doesn't go over the top with it. It's like a brewing storm that he's trying to keep under control. Sometimes he holds it all the way down, on a bad day it explodes out of him. You can tell he studied people with problems like this. I recognized some of them from people I've met and seen around.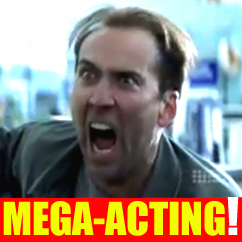 This is an ultimate Cage role because it's a perfect excuse for him to use both ends of the spectrum, from laid back and subtle to full blown knock you on your ass mega-acting worthy of KISS OF THE VAMPIRE. Usually somewhere in between, but he could go off at any moment. There is an absolutely classic bit of Cage humor when he's flipping out trying to get medication at a pharmacy and another customer sarcastically asks him if he's ever heard of waiting in line. At his most crazed he asks the guy "Hey have you ever been dragged on the sidewalk and beaten 'til you PISSED! BLOOD!?"
Then, once the pharmacist decides to help him he turns to the pissed-blood guy and says, "And I am sorry, sir," clearly convinced that saying that makes it all okay.
It's just great to see someone as talented as Cage getting to use everything. It's a meticulously detailed performance with his quirks, his dark humor, but also his emotional vulnerability. And then Cage has to portray Roy, this mess of a guy, portraying other characters in order to pull off his scams. So, that's one of the reasons why this is better than NATIONAL TREASURE.
(I was thinking Lohman and maybe Cage had been nominated for Golden Globes or something for this, but nope. Rockwell was nominated for a Golden Satellite. That's it. )
I thought the movie had one major weakness, which I will go into in the spoilbox below. But it's interesting because most con movies live or die on the strength of their con – how clever it is, etc. This is the rare movie where the con aspect somewhat drops the ball but everything else is so great that you don't care that much. It's trying to be more a story of the relationship between this fuckup and this young girl than about crime, and it really succeeds. I liked this one.