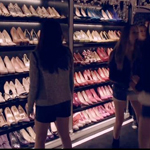 It's a crazy story, and it really happened pretty much like this: a group of well-off high school kids in the Valley, obsessed with celebrities and their clothes, decided to start robbing them. Using Google to find their addresses, and TMZ and Twitter to find out when they were out of town to host a party or attend an awards show, they'd show up at their mansions, let themselves in, then have the run of the place like it was the mall in DAWN OF THE DEAD. They stole clothes, handbags, jewelry, cash and (they say) cocaine. They chose Paris Hilton as their first victim because they thought she was "dumb" and might leave a door unlocked – sure enough they say they found the key under the welcome mat. Others (Lindsay Lohan, Brian Austin Green, Orlando Bloom, some reality show people I never heard of) left doors or windows unlocked. These kids chose celebrities whose fashion they admired, and they happened to be people with so much shit that they didn't even notice when it was gone. Not until more experienced criminals got involved and knew to take the most expensive jewelry.
It all starts with a new kid at the alternative high school, called Mark in the movie and played by Israel Broussard. He's a little awkward and has anxiety problems, so it's hard for him to fit in until Rebecca (Katie Chang) zeroes in on him, they start hanging out and when they flip through a fashion magazine they realize how much they have in common. She shows him a fun time at parties and clubs and then pushes him into prowling cars with her. He's real uncomfortable with it but enjoys it when she uses the proceeds to take him clothes shopping. It's her that comes up with the idea of the celebrity break-ins, and she's always in charge. He gets scared and keeps wanting to leave and she keeps reassuring him, "It's fine." And he believes her.
They get some of their other friends involved, including two sisters and one friend who live together with their new agey mom (Leslie Mann). It's no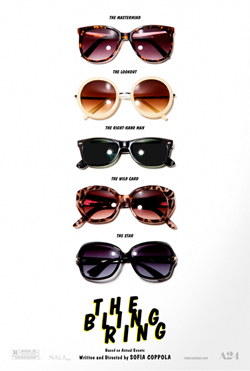 t mentioned in the movie, but in real life the family had just started filming a reality show for E! about this lady trying to home-school three bratty socialites. (The show ended up being retitled Pretty Wild and dealing mainly with the trial.) After seeing footage of the real mom, Andrea Arlington, it's obvious that Mann was the only choice. She has a similar voice and a knack for being likable while playing an idiot. The character is a well-meaning goof who gives her kids daily lessons based on The Secret. A fairly accurate depiction, judging from Arlington's websight.
They have a connection to get into a club exclusive enough that they spot two major celebrities (one a future Bling Ring victim, the other star of two previous Coppola films) and try to act casual. Being in a place like this, among these people, must be a great honor for them, but it doesn't occur to them to try to have fun. They spend their time sitting on couches, looking at their phones and taking pictures of themselves. When one of them dances the others make fun of her.
Their robberies are not some kind of Robin Hood thing, and don't seem to really be about the money either, although they do fence some of the things they steal. Mostly they want those brand name items they read about. They want to wear celebrity underwear. They want to hang out in Paris Hilton's "night club room," dance on her stripper pole. Some of these homes they violate are just as ridiculous as they are. I love that both Lindsay Lohan and Paris Hilton have big letters spelling out their first names inside their homes.
Hilton's place is a shrine to herself, full of framed magazine covers, pillows with her face on them, things like that. Also, a room with enough shoes to impress Imelda Marcos. They look at the shoes and discuss her foot size and know all about the brands already. The way we know who directed and starred in such-and-such these kids know the brand names of clothes they could never buy, only steal. It seems believable that this would be Hilton's house, and that's because it is. I can't decide if her letting Coppola film there means she has a sense of humor about herself or that she's completely clueless.
Predictably, Coppola interjects social media screen shots, nightvision security camera footage and fake interviews to tell parts of the story, but like in some of her other movies she mostly finds style through stark simplicity. The movie is dedicated to Harris Savides, her SOMEWHERE cinematographer who died during filming and was replaced by Christopher Blauvelt (MEEK'S CUTOFF). It feels very raw and basic, no show-offy movements, only show-offy lacks of movement. The most noticeable one is the uninterrupted exterior shot of a glass house (there are many types of architecture shown off in these celebrity homes) as Mark and Rebecca run from room to room looking for good things to steal.
The cast are all very natural and un-actorly, with the exception of HARRY POTTER pal Emma Watson. With her ridiculous self-seriousness and Valley Girl inflection she seems like the only caricatured performance, but once you see footage of the real woman you realize that Watson was generously toning her down. She still gets alot of the laughs in the movie. Her funniest line (which I won't give away, even though it's in the trailer) comes from the actual transcripts. Her careful planning of when and where to stop and make a press statement on the way to the courthouse was also, apparently, real.
This is a bit of a problem though, because Coppola usually has great empathy for her characters, even Marie Antoinette. But how do you muster up much love for these shallow assholes? Mark fares the best because Broussard seems very likable and down to earth, and makes him sound smarter than his actions would indicate. Mark has some self awareness at the end, and we can understand why Rebecca's friendship was so important to him. I did feel a little bad for him when, after all this, his best friend wouldn't even look at him.
Overall it's a fun story, but what it says about our culture is pretty up front from the beginning, there's not alot of room for deep reflection. And since it's mostly following what actually happened, not throwing in any extra thriller elements or anything, it gets a little repetitive. Going through Paris Hilton's clothes, going through somebody else's clothes, going through Paris Hilton's clothes again. It feels more obvious and slight than Coppola's other movies.
Part of this may come from me having seen SPRING BREAKERS first (and then watching it again right after BLING RING). Both are about groups of superficial young idiot girls (plus one boy) who drink, drug, listen to dubstep and go on crime sprees together. Both have girls dressing and acting hyper-sexualized while exhibiting little interest in actually having sex (one girl making out with a guy at a party is the closest they get in this one). Both have a skinny-little-rich-white-girls-fascinated-by-black-culture motif. In this one they drive around rapping along with Rick Ross and greet each other as "homey" or "dog" (although not as often as "bitch" or "slut").
I think the Bling Ring are more materialistic than the Spring Breakers, except for Alien. They're like Alien, they want you to look at all their shee-it. They pose with it on Facebook. Both groups seem to commit their crimes mostly for the hedonistic pleasure. They're having fun. But the element of celebrity is absent from SPRING BREAKERS outside of discussing the music of Britney Spears. No one seems impressed that Alien is a locally successful rapper, for example. It's refreshing, come to think of it, that those girls aren't looking to become Bonnie and Lonnie and Clyde. The Bling Ring aren't either, because things were working better when nobody noticed them, but of course it all stems from their obsessions with these celebrities, and when getting busted gets them notoriety they embrace it.
In a way it makes me respect the Spring Breakers more. I can't agree that Britney Spears is an angel, but at least she's a singer. She sang at least two songs that we see are important to these girls. The Bling Ring choose their hero/victims based not on what they do, but what they own. Their shee-it. Of the celebrities they target the most artistically accomplished is probly Lohan, but I'm pretty sure they know her more from gossip than from THE PARENT TRAP or PRAIRIE HOME COMPANION. Note Mark's daily ritual of reading about which celebrity got a DUI last night. They're moving up in the world when one of their group gets one for herself.
I guess actually the most accomplished is Orlando Bloom, since he's in the LORDs OF THE RINGSes and the PIRATES OF THE CARRIBEANs. Dual trilogies. I don't think it's mentioned in the movie, but in reality they chose him because they read about an expensive watch he owned. In the movie they may be more interested in his girlfriend, a model.
While SPRING BREAKERS turns into SCARFACE (on repeat) at the end, THE BLING RING stays grounded. I don't think they realize how serious their crimes are. They're just up to some mischief. In the scariest scene the fantasy world is invaded by a gun belonging to Brian Austin Green. It's pulled out, fondled, admired, passed around haphazardly, seeming poised to accidentally fulfill its function all over 90210-funded walls. That's when the idiotic innocence leaves the building. Their crime spree finally goes sour when they start working with an established criminal, a fence. This guy comes in knowing what's the expensive jewelry to sell, all the sudden the police are looking for them. At the end, in a great sequence of the ring's upper class lives being interrupted by their arrests, these two are brushed off with quick, unceremonious shots of being dragged from their working class families and/or dingy hotels. A part of the world the Bling Ring wouldn't want in their lives, or in their movie.
* * *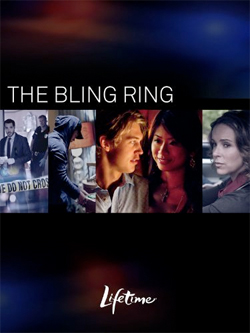 There's also a made-for-cable THE BLING RING from 2011 – the SWORD OF GIDEON to Coppola's MUNICH – and it has some stylistic similarities. Like Coppola, director Michael Lembeck (SANTA CLAUSE 2-3, TOOTH FAIRY) has fake interviews throughout, skips between the events and the aftermath and uses lots of security cam POVs and screenshots of social media. Of course, it looks and sounds like a Lifetime TV movie, not a Sofia Coppola movie shot by Harris Savides, so there's a pretty big stylistic difference.
Of course the production values are very different too, whether or not the budget was. Coppola obviously had access to many ridiculously rich people's homes. While this has a pretty good likeness of Hilton's place there is obviously alot more faking-it going on. You don't see all the modern architecture and opulent furnishings.
Also, of course, the soundtrack isn't as good. And they have a brief spotting of a Hilton lookalike instead of the real one. They've got a harder row to hoe here.
Since they can't rest on style they have more plot. The boy (called Zack in this one and played by Austin Butler)'s parents (especially Jennifer Grey as his mom) are important characters. His dad's job at a studio (mentioned in the new one) is more important. There's a detective character (Tom Irwin) trying to catch them, so it turns into kind of a procedural, and there's a whole thing where this old guy has to learn how to use Facebook to follow what they're doing and make contact with them. He becomes their Facebook friend! Is he in too deep? Is he gonna get too close? Is this gonna turn into a John Woo movie?
In the new one there's rampant cocaine, marijuana and drunk driving, in the old one it's played down quite a bit. I thought they were using coke on a time lapse security cam shot but it also kinda looked like they were just stealing food. In the new one there's a line that indicates yes, Mark is gay, like you wondered after he knew so much about clothing brands. In this one they don't say that, and then make him fall for a normal girl outside of the clique. This becomes the main thrust of the plot as he kind of tries to get out of the stealing to be closer with this girl, but Rebecca vengefully gets her involved, and then Mark's mission of redemption is to offer himself up to the detective in such a way that this innocent girl won't get dragged down with them.
Like you'd expect in a true crime thing, teleplayist Shelley Evans throws in little bits of trivia, like that Zack dabbled in child acting. His mom says he was in a movie "directed by Spielberg's second A.D." Not true, but the real guy was in a TV movie called  LITTLE LOST SOULS: CHILDREN POSSESSED? Director Craig Santy worked on some documentary shows like Crime 360.
MVP in this one would have to be Gossip Girl's Yin Chang as ringleader Natalie. She has a very different type of charisma than Katie Chang in the other one, more domineering but still likable until she gets too controlling.
If you're gonna see one BLING RING movie, obviously see the Coppola one. But this is a watchable enough tv movie, in the obvious "this is sort of based on a thing that really happened, isn't that crazy" type of way.
* * *
ADDITIONAL READING AND VIEWING:
Here's the original Vanity Fair article that the new movie credits as its basis
and here's a second-hand video of Alexis Neiers (who inspired Emma Watson's character) trying to call the author, Nancy Jo Sales, and complain about the article. It turns out her and her sisters were filming a reality series about Hollywood party girls when she got busted.
Sales also extended the article into a book, but I don't think we have to worry about Neiers complaining about that one. It's a book.