RED STATE is ex-movie director Kevin Smith's long-threatened version of a horror movie, supposedly his last movie except for an epic 2-part Seann William Scott hockey comedy based on a Warren Zevon song (!?). Promises promises.
I gotta tell you though, I kind of liked this movie. Never would've predicted that, but it's true. It's his best camerawork and direction and his least self-indulgent dialogue. It's not just "good for Kevin Smith," which in my opinion would also describe COP OUT and ZACK AND MIRI MAKE A PORNO. If I saw it and didn't know who made it I still would've thought it was pretty good (and never would've guessed it was Smith).

It starts out like a HOSTEL type movie. Three dumbass high school buddies hatch a plan to get laid. The plan involves going to a trailer to meet an old woman they found on the internet who wants to fuck all three of them at the same time. Of course it turns out to be a trap, they get drugged and imprisoned by loonies that are gonna torment them and kill them. (Has anybody ever benefited from thinking with their dick in a horror movie?)
But one odd way it differs from HOSTEL or FRONTIER(S) or other movies is that the succubus that lures them in is not porno material at all, she's Academy Award winner Melissa Leo, made up as one of the aged working class mom types she plays now. I didn't really buy that these kids would be so into that, and wondered if this was Smith getting goofy ideas about how things go down in "red states," but I appreciate it anyway 'cause it breaks the mold of these type of movies.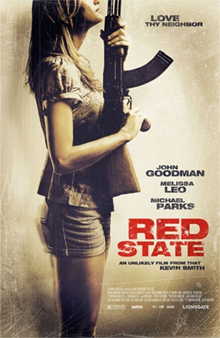 The bad guys, you've probly heard, are members of a fiery anti-gay church like Fred Phelps, the notorious homophobe supervillain from Topeka, Kansas. Rule of thumb: If you are the reason a law was created banning protests within 300 feet of a national cemetery within an hour before or after a funeral then you might be an asshole. Also if you picketed Mr. Rogers' funeral because you thought he seemed fruity, that could also be an indicator.
You know what, I'm gonna have to say that in any situation really, if you picketed at a funeral, I believe that would have to make you an asshole, pretty much.
Anyway RED STATE's preacher is worse than Phelps because he also kidnaps and murders people and has a bunch of guns and a compound like David Koresh. The pastor is played by Michael Parks, a great character actor who has been successfully revived in Tarantino-related movies as Earl McGraw and as Esteban in KILL BILL VOLUME 2. I also dug him in DEATH WISH 5. As much as I like Parks I was still surprised by the subtlety of his performance. He doesn't play him like a maniac, he plays him like a pastor. He doesn't even look wild-eyed or out-of-date. Look at that picture, he kind of looks like a thoughtful Howard Hesseman type. In fact, the church and the congregation too – they just look like normal people going to church. None of the usual redneck stereotypes or scary-religious-person-in-a-horror-movie cliches. They're just a small family church with a despicable view of gays and, in fact, an abducted gay man kept casually under a sheet as the pastor delivers a long-ass sermon. You notice the sheet but keep forgetting it's there, because they're so casual about it.
Also the three kids are there, I guess because the whole foursome idea seemed kinda gay. But "I ain't even gay!" one of the kids keeps screaming, in his defense. I guess you can forgive him, he's in a life and death situation, he's not necessarily gonna stand up for equality right then.
A series of mistakes and coincidences leads an ATF agent (John Goodman) to plant a SWAT team outside the compound as the kids are trying to escape. Goodman is really likable in the role, and the movie shifts around him so that he becomes the center. What started as a 2000s style "extreme horror" movie becomes more like a police procedural, with a good-hearted but seen-it-all agent staring at atrocity without flinching and then musing on the random series of circumstances that brought it all about. I think there is some Tarantino influence in the way that it leaps from this intense situation inside the compound to introducing this new character and a long scene of him at his home explaining everything he knows about the cult to some unseen person on the other side of the phone.
The title, especially considering that Smith was trying to make this movie several years ago, seems to imply some kind of political message about "this is what goes on in the conservative leaning states" or something like that. But I don't think it really has a political message other than the basic one that only a fuckin nutbag hates gays. I'm not sure what "red state" this is supposed to take place in, but it's worth noting that the teacher in the Awkward Exposition In a Classroom Discussion opening shows open disgust for the homophobes and the class seems to be down with her. So it doesn't seem like Smith is trying to make any kind of generalizations about the people of this region, even though he easily could've made the kids call each other 'fag' to show the irony of them later being lumped in as gays because of their plan for group sex.
If you wanted to you could read a sort of anti-government paranoia into it, the way the movie plays off what happened at Waco and then portrays the feds as intentional cold-blooded murderers with convenient cover stories. But I never felt like Smith really believed that shit. In fact he sort of does a disservice to those type of sentiments by painting such a far-fetched portrait of this type of agency. I've seen WACO: RULES OF ENGAGEMENT, I know there are legitimate questions there, but the way these guys openly talk about it and are used to it as an unfortunate evil side of their job is not so believable.
I mean, I don't know jack shit about real feds and cops, what they would say to each other and how an operation like this would go down. I'm sure there are plenty of cop movies that are just asinine to a real cop but seem fine to me. But a good writer of this kind of stuff makes the audience believe the characters and filmatists know what they're talking about. This one skirts that line some of the time, but Goodman sells it pretty good.
Smith tries to go Aaron Sorkin at the end, with flowery conversations including one of those deals where somebody is asked a question and instead of answering it they tell some story from their life that's supposed to cleverly answer the question through parable. But to be honest I didn't understand what the story was supposed to mean. Could you rephrase that, John Goodman?
I feel like alot of this movie only almost works, but I guess I give it credit for trying. It's kind of an odd hybrid of movie types, and it ends up feeling more like a weird "can you believe this happened?" type of anecdote more than a formula horror movie. And I like (SPOILER) that in the end nobody seems to give a shit what happened to the original protagonists, or even know they exist. And it happens so off-handedly that you almost don't notice. It doesn't run up and punch you in the shoulder and tell you proudly how fuuuuuuucked up it all is.
So it's not bad, really. I'm impressed.