THE LATE SHIFT was the HBO movie based on the book based on the time when Jay Leno and David Letterman were fighting over taking over The Tonight Show. It seeks to put you backstage and in the board rooms and Emmy parties to see with your own simulated eyes what happened. But at the same time it can't help but distance you because that's not Leno or Letterman, in my opinion it's actually a couple of actors doing impressions. They also have legendary unfunny impressionist Rich Little playing Johnny Carson. He does a good impression but looks nothing like him, so in his scenes you just have to look away from the screen and then it seems like it's Johnny.
The guy that plays Leno is Daniel Roebuck, who also plays talk show host Morris Green in the Rob Zombie pictures. And he was in BUBBA HO-TEP. Letterman is played by John Michael Higgins (BLADE: TRINITY). It's also populated with character actors like Bob Balaban and Ed Begley Jr. playing executives whose names you used to hear all the time in the '80s and '90s but never really paid attention to who they were. Treat Williams plays Letterman's super agent Michael Ovitz, so it's the guy from the SUBSTITUTE sequels playing the guy who got Seagal into movies. The director is Betty Thomas, a fairly respected filmatist at the time because THE BRADY BUNCH MOVIE and then PRIVATE PARTS were better than anybody expected. But I just looked it up and it turns out her most recent directorial work is ALVIN AND THE CHIPMUNKS THE SQUEAKQUEL, so I guess that's how that story ended.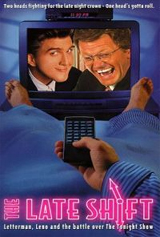 I know many of you aren't in the U.S., so you've never seen these shows anyway. To help you out, The Tonight Show is the grandfather of all American late night talk shows, having started with Steve Allen in '54 (then hosted by Jack Paar, Johnny Carson, Jay Leno, Conan O'Brien for 7 months, and Leno again from Monday until he snaps). Letterman is another talk show host who had a show that aired after Johnny Carson for 10 years but when Carson retired and they chose Leno to replace him he got mad and moved to CBS where he is now the direct competition of The Tonight Show.
You know, let me try this a different way. Letterman is the guy who tries to sell a monkey to Chris Elliot in CABIN BOY. Leno did the buddy movie COLLISION COURSE with Pat Morita, and showed off his cars to Eric Bana in LOVE THE BEAST. For Americans, though, they're constant TV fixtures, so to see someone playing them can be pretty silly, like a Saturday Night Live skit. Saturday Night Live is an American TV show also. You know the movie IT'S PAT, that came from Saturday Night Live. Make sense? Okay, I think we're all on the same page here.
Accepting an actor imitating a familiar real life person is always a challenge for any celebrity bio. For my brain anyway it's a bigger hurdle than the usual suspension-of-disbelief. It's weird to see a guy who was in VAMPIRE'S KISS wearing a baseball hat, chewing a cigar, having a dramatic discussion with his agent on a beach and continually launching into familiar Letterman shtick. But as the viewer it is our responsibility to just try to go with it, otherwise the movie is fucked. In this one it took a bit, but I was ultimately able to project my consciousness into an alternate reality where this guy with the fake chin and cartoonishly high voice is the real Leno.
The Leno of the movie is a nice guy, but still kind of a weasel. He has a Ronald Reagan (Ronald Reagan was a president we had in the United States from 1980-1988) plausible deniability approach – his manager breaks the fingers and he doesn't have to know about it. So from the movie's POV it's all Kathy Bates's fault. She's the bitch who played dirty to get him to the top, even creating press leaks designed to pressure Carson to retire. Can you believe that shit? In the movie Leno is pissed that she lied to him about it, and in reality she sued the publisher of the book for that claim and they settled out of court. But just the idea of it, man. You always remember Carson retiring as being this sad goodbye to a guy that wanted to hang it up and settle down, so to think that actually he was pushed into that position by some horrible person trying to get a good gig for her client… that's fucking awful.
Also she got M.A.S.H. cancelled. And she killed Bambi's mom.
I mean, as portrayed in the movie this bitch is a supervillain. As producer of the Tonight Show she throws a fit because Ronald Reagan's (see, it was important that I explain who that was earlier, it came up again) speech at the GOP convention goes long and delays their broadcast. She calls up NBC News yelling and swearing at them to cut him off. She's so horrible I think even Jello Biafra would've been like, "Hey, lay off the old man."
All of this seems pretty dated, more of a re-enactment of Variety headlines than an insightful exposee. But of course it takes on new relevance in light of recent events. (Note to readers of the future: Conan O'Brien was recently pushed out after 7 months of hosting The Tonight Show and Jay Leno returned even though he had pretended to willingly pass the torch. By the way do you guys have sex robots yet?) The Leno of this movie seems like you would imagine the Leno that would say yes to that deal. He wants everyone to like him and he's not malicious, but when it comes down to it he'll gladly reap rewards he didn't earn. As long as he didn't get his hands bloody he'll chew the meat. You can tell that in his head he's trying to justify it to himself. The putting-your-hands-over-your-ears-and-singing-Mary-Had-A-Little-Lamb ethical defense. His whole approach here is to grimace at the ugliness but then sit there and not say anything against it. Then maybe he'll luck out and nobody will blame him.
Even giving up on his manager when he does is mighty convenient. Sure, he stands up to her – when it's best for his career. Before he just cringed and looked embarrassed, only now that it's the easier choice does he disavow her.
Not that Letterman's exactly a samurai here either. He's angry at NBC because they know he wants the job and he's been loyal to them for 10 years, and they give it to the guest host. Letterman's like a long time worker passed over for a promotion that went to an outside hire. It makes sense for him to be mad. But when Leno already has the show and Dave's got a better deal set up at CBS he still wants to accept an offer to take over The Tonight Show. Nobody thinks he should do it, and one person mentions that it would be screwing over Leno. But the decision doesn't come down to ethics, just that CBS offers more money and security.
It's funny, watching this now makes Leno seem nicer than I think of him as, but it really reminds you how hypocritical he is in this Conan deal. At the time of that fight he was getting weak ratings and was struggling to come out from under Carson's shadow. His producer claims he represents a new, younger audience. Now it's Leno replacing the guy who didn't get a chance, and he's also the old guy who supposedly got pushed out. But he doesn't mind. He'll go along with that. I guess he thinks he's Johnny.
All this seems to have reignited the Letterman/Leno feud a little bit, judging by the guests lined up for Letterman this week. Monday begins Leno's Bush v. Gore style return to The Tonight Show, but be sure not to watch because 1. if anything funny happens it'll be online 2. Letterman has Bill Murray on, always a funny guest. For Tuesday Leno has Sarah Palin, so Letterman got Mitt Romney (you can't tell me that wasn't a calculated move to take a few Republican ratings away from Leno). For the rest of the week he's got Jerry Seinfeld, Tom Hanks and Matt Damon (going head-to-head with Morgan Freeman on Leno – INVICTUS fans will have to choose a side).
So it's funny, because the "Late Night Wars" shown in this made-for-cable movie seem like so long ago, but the effects still linger, like Agent Orange or PTSD. Whatever you do don't draw first blood on these guys.