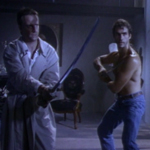 Right now, in 2019, people sure do love a good TV series. Some claim that the premium cable and streaming shows are actually better than movies. As TV shows become more cinematic and cinema becomes more serialized, the two mediums seem to be growing into each other like a very respectable rat king. Big name real deal movie stars can star in TV shows or limited series and collect acclaim and awards instead of scorn for slumming it.
At the same time the industry is obsessed with "intellectual property" and franchises, so naturally we're getting TV shows that prequelize or sequelize a popular movie/movie series. In recent years they've done Terminator: The Sarah Connor Chronicles, Tremors, Taken, Transporter: The Series, Training Day, Limitless, Ash vs. Evil Dead, Cobra Kai, Wet Hot American Summer: First Day of Camp and Wolf Creek, and soon we'll be getting new Star Wars and Marvel tie-ins and maybe Undisputed and all kinds of shit.

That wasn't how it worked in the early '90s, though. There had been a few genre shows connected to movies: Planet of the Apes (1974) (and the animated Return to the Planet of the Apes [1975]), Beyond Westworld (1980), Blue Thunder (1984), Starman (1986-1987) and Alien Nation (1989-1990). None of these ran for very long, few are well remembered. TV was lesser than movies, you could never carry over the cast or the production value, and extending a movie series onto the small screen was not really a good bet.
But shit, HIGHLANDER II: THE QUICKENING wasn't a good bet either. And producers Davis and Panzer, stinging from that loss, weren't ready to leave the blackjack table. Maybe a TV-sized saga of the Immortals could be more than the Starman of the '90s. Maybe it could be the M.A.S.H. of the '90s! (read the rest of this shit…)