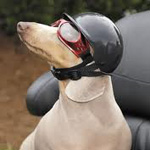 Well we know the spanish can do good modern horror, and the japanese can do it, and there's that one canadian dude. But what about the Brits? They had the great Hammer Studios way back when, and they made the Wickerman I believe, so they got a good tradition going. But it's been a while since I've heard about a real good one. To be honest I haven't paid too much attention to the british culture lately. All I know is they got those annoying crime movies and that tv show where you go into your friend's house, repaint it and glue a bunch of pinecones and inner tubes together as decorations.
But now maybe they got the next horror visionary. A newcomer by the name of Neil Marshall, he wrote and edited a couple earlier movies and this is his debut as writer/director/editor/credit hog.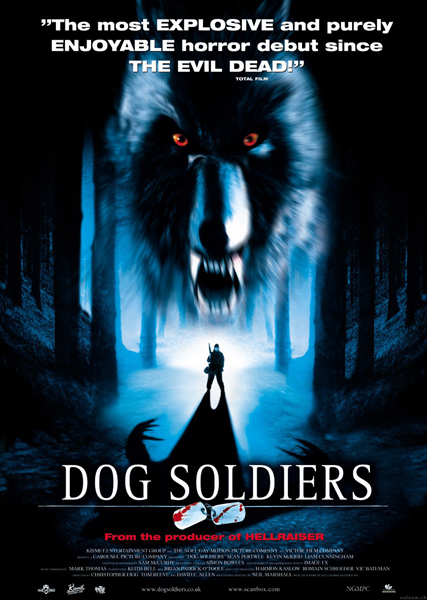 This is not a perfect movie, and I don't think it's as knock you on your ass inventive as say THE EVIL DEAD or something. But it's just a great premise that crossbreeds familiar genres into something weird you've never seen before, sort of like when they genetically combined brocolli with asparagus. Only not as disturbing.
Here, let me just tell you the premise. Two groups of british soldiers, one just regular grunts and the other one special ops, are deployed in some remote wilderness for a war game. We're with the grunts as they stalk the woods with a mixture of nervousness and boredom (one guy wants to be home watching the football/soccer ball game, others want to prove their worth by standing up to these special ops fuckers).
So then they're sitting at the fire telling war stories when somebody throws a dead cow at them.
Next thing you know they find the other team, most of them completely eviscerated. And since you've seen the cover of the video, you know it was by werewolves.
Before you know it they're holed up in a farmhouse and the werewolves keep coming at them. So it's kind of like a NIGHT OF THE LIVING DEAD scenario. They even got the leader of the special ops group as the big asshole character so they can have lots of Romero style dramatic disagreements (I guess they're actually more just arguments than dramatic disagreements, but whatever).
But in NIGHT OF THE LIVING DEAD they didn't have machine guns, and the phrase "short, controlled bursts" never came up. There don't seem to be as many werewolves as there were zombies, but they're faster and smarter so it's a good battle. I guess you could compare it to ALIENS but it doesn't feel like it's trying to copy those sorts of characters, it's just a good way to make soldiers interesting: put em up against werewolves! (Didn't somebody call this BLACK HAWK DOWN with werewolves?)
Thankfully, this is another serious horror movie, any humor is in a bleak "oh shit we're fucked" kind of way and there's not even much of that. There's one gruesome joke with some intestines that I won't give away. Most of the gore here is more in the style of a war movie than a horror movie. People get these horrible injuries but they're soldiers, they try to get out of there, even if they have intestines hanging out. You never saw that in a Jason picture, I don't think.
Not everything works. There were some turns of the plot I didn't particularly like, but nothing too bad. And the werewolves look pretty silly sometimes. Most of the classic independent horror pictures have humanoid type villains, like zombies or killers in masks, because that's a lot easier to do successfully. (EVIL DEAD had some good freaky ass creatures but that was only a few shots). Here you gotta make a guy that's part wolf and part dude that actually looks cool, and that's hard to do even with more money than this. Alot of the time these just look like overly detailed team mascots.
BUT, it doesn't even matter. They do a good job of hardly showing the werewolves at all while still making you feel their presence. It's part of why it works anyway. You do wonder why they aren't curious enough to take a close look at the corpses after they kill them, but oh well.
I would recommend this picture which is coming to video here in a few months but has been circulating around some of the arthouse theaters and I think they even showed it on the sci-fi channel at one point. So look for it. I know it's hard to believe there were two good low budget werewolf movies in the last year or two (this and GINGER SNAPS) but seriously man, I'm not making this up.