Nope, this is not a sequel or rebuttal to Walter Hill's SOUTHERN COMFORT, and it's not a withering expose of labor unrest at the Southern Comfort liqueur factory. SOUTHERN DISCOMFORT is an hour long documentary about a night of indie wrestling in Alabama made in 2000 by Fred Olen Ray, a director I thought only did no-budget movies with babes and dinosaurs and shit like that. Although much more upbeat than THE WRESTLER or the Jake "The Snake" Roberts portion of BEYOND THE MAT this is that same world, the bonebreaking for small crowds and small pay in high school gyms.
The Iron Sheik is the superstar of the bunch, doing a good job of not seeming depressed that he went from 19,000 fans at Wrestlemania in Madison Square Garden to 400 at the Saks High gymnasium. But the stars are all wrestlers I never heard of before who as far as I can tell have mostly never achieved much more fame than this and in their interviews never imply that they want to. They're happy working regular small town jobs and then on the weekends putting on a mask and throwing people around.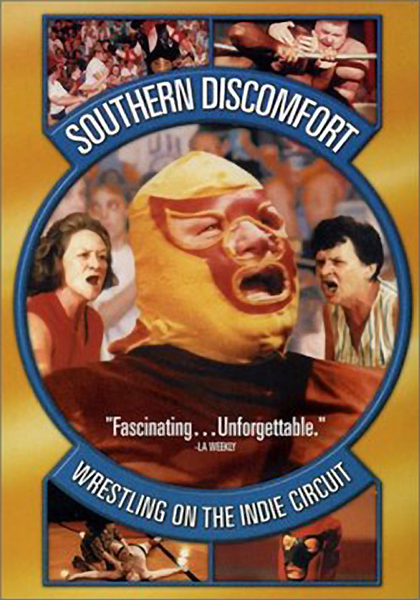 The interviews don't go too deep, and many of them stay in character, but it's still a great visual record of a world most of us have never seen. It's wholesome but ugly – lots of hairy, fat bodies sweating in the 100 degree Alabama heat. The crowd boasts a complete collection of every redneck stereotype ever invented, especially the one about wrestling fans thinking wrestling is real. Some of them get in heated arguments with the bad guy wrestlers, looking incensed, their eyes about ready to pop out of their heads like Nerf darts. Two of the bad guys successfully egg the crowd on about being rednecks, and one of them even pulls it off while wearing a Jim Beam t-shirt and Hank Williams Jr. headband. They still don't seem to catch that he's just trying to get a reaction out of them. Both fans and wrestlers sport hair styles that must've been holed up somewhere where they never heard that the '80s ended.
There are several wrestlers with lucha libre style masks. Shanghai Tex wears a cowboy hat over his and lets his mustache flow through the mouth hole. The Power Rager wears a costume copied from the Power Rangers kids tv show and enters the ring wearing a modified motorcycle helmet. The Bullet doesn't mind doing an interview unmasked, he only wears it because Ted Dibiase kicked the bench out from under him while he was lifting and destroyed his nose. He tells that story like it's funny, and in fact it does smell kind of funny. His wikipedia entry says the bench he was lifting on broke and does not mention Dibiase at all. I guess he must've agreed to be blamed at the time.
My favorite as a documentary subject is The Flame, a bad guy who reveals himself as the fat, balding manager of a fast food restaurant. He seems like a regular old working man but put the Flame mask on him and he starts yelling insults at the old ladies in the front row until they want to fight him. I guess he has a dark side lingering beneath the surface while he serves food to the ladies from the nearby nursing home.
The Iron Sheik seems to be at a weird place in his career. His talent is for being hated, but he's so much more famous than the others that he starts acting like a good guy. In the interview he stays in character but keeps talking about moving to America, "the greatest country in the world," and how he wants the kids to pray to Allah and Jesus. When he comes out he does a weightlifting demonstration, has a guy from the crowd try (and fail) to do the same thing, then pats him on the back and praises him for having the guts to try. But then when he comes out in a head dress with an Iranian flag everyone boos angrily and chants "USA! USA!"
The women seem like the best wrestlers in the event. They do the most impressive and dangerous moves and the most acting to sell the storyline. The heroine Bambi works the crowd alot and sends spit flying when she's hit in the face. The villainess, the butch Peggy Lee Leather, acts angry at the crowd, referee and the match itself. Bambi seems to be the most popular of all the wrestlers, especially with the little kids, who go nuts for her. I wondered why – maybe the girls look up to her as a woman who appeals to traditional southern values without staying in the kitchen, and the boys, uh, have special growing up feelings for her? But I think the answer comes at the end of the movie when the event is over and as the crowd pours out she stands near the door greeting all the fans like a pastor after church. This is especially impressive because we last saw her alone in a locker room buckled over holding her ribs, which she seemed to think were cracked.
There's not much noticeable camaraderie among the wrestlers. For a minute it seems like The Bullet is giving Bambi supportive advice about her injury, but then you realize he's just using it as an excuse to brag about all his injuries. He mentions at least 3 times that he broke his ribs in the back and that that's worse.
Although they talk frankly about some aspects of wrestling, and some of them take off their masks, they don't really get much into the fakeness. I don't mind but I'm always curious about the specifics, how much they plan it out, how they know what each other are up to. How improvisational is it exactly? The other mysterious part of the movie is a guy called "Big Boss Hoss," who dresses just like an old WWF wrestler called Big Boss Man. I wondered why he thought it was okay to do that and whether people watched him believing he was the other guy.
The beginning of the movie calls them "outlaw wrestlers," and that got me thinking maybe I'm kind of the film criticism equivalent of these guys. I do it for the love of it, I rarely get paid, I sometimes feel like a big shot in my little world but to anybody else I'm a nobody. My reclusiveness is my mask, geocities is my high school gym, you could even argue some talkbackers are the toothless hicks yelling at me from the crowd, trying to start a fight with me. Harry is the guy who used to wrestle but now owns the ring. I started out as a bad guy but now I'm a good guy. In my arena everybody wants to high five me, but outside nobody gives a fuck. Go back to the burger stand. But they never wanted to be Hulk Hogan and I never wanted to be Roger Ebert.
Fred Olen Ray is maybe a director equivalent, but he's being literal, he's not looking for any metaphors in this thing. He explains on the commentary track that he made this partly because he was looking to get into wrestling. I had no idea that he wrestled under the name Fabulous Freddie Valentine, but sure enough he did. He also appears briefly in the movie as a manager, which is probaly against some documentarian code of ethics, but at least it's less corny than the Michael-Moore style first person narration the BEYOND THE MAT guy did.
This entry was posted on Tuesday, March 17th, 2009 at 9:57 pm and is filed under
Documentary
,
Reviews
,
Thriller
. You can follow any responses to this entry through the
RSS 2.0
feed. You can skip to the end and leave a response. Pinging is currently not allowed.