There's alot of big movie anniversaries this summer. Everybody's celebrating 30 years since the Summer of '82 shit like E.T., THE THING, BLADE RUNNER, CONAN THE BARBARIAN. And I've been trying to commemorate the important summer of '87 ones like PREDATOR and ROBOCOP. Little did I know that there was another movie, originally released July 9th, 1987, worthy of that kind of respect, but that I never saw before.
Geez, man. What have I been doing these last 25 years that was so god damn important I couldn't be bothered to watch EASTERN CONDORS? Nothin, that's what. Why did nobody convince me to watch this one before? This is my new favorite movie until further notice. The only legitimate reason to not watch it is if you're worried that it will be hard to find another action movie to watch after that, because not many hold up to the EASTERN CONDORS standard of fun.
Directed by and starring Sammo Hung (with a superstar team that includes but is not limited to his partner Yuen Biao, DRUNKEN MASTER director/MATRIX choreogapher Yuen Woo Ping, and FONG SAI YUK/NO RETREAT NO SURRENDER/TRANSPORTER director Corey Yuen), this is late '80s Hong Kong action cinema's take on THE DIRTY DOZEN and RAMBO: FIRST BLOOD PART II. After the conclusion of the Vietnam War the U.S. government offers pardons to a team of Chinese-American convicts in exchange for going on a mission to destroy a huge weapons depot they left behind.
Why would a bunch of Chinese people go on a mission for the U.S. military? I assume the idea is that they'll blend in better. But they try to sneak around anyway and when they're spotted they're identified as Americans. There are a bunch of things about the mission that didn't seem to make sense to me – why is a guy convicted of killing a federal officer okay to be de-facto leader of the squad? Why do the Viet Cong start shooting when they see movement in the bushes – isn't the war over?
Another funny bit: they mention that the cons will get "special training," but don't show any of it, and no time seems to pass, but somehow they're all highly skilled martial artists and guerilla fighters.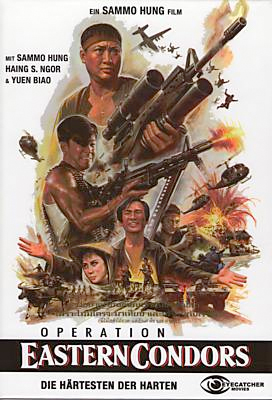 But none of that matters. This is two great action movies at the same time. It's got all the machine gun and grenade action of an American war movie, with a bunch of gigantic explosions, both of the real pyrotechnic variety and the disaster movie special effects types. But the characters move through this with the nimble athleticism of a kung fu movie. It's not just two sides with guns opening fire on each other – one side might leap out from nowhere to grab the other side's guns. They'll escape captivity by flipping upside down, untying their wrists with their teeth while submerged underwater. They'll flip and somersault and drop on an enemy from hanging upside down in a tree. It's fun just to watch them moving around, before they even get to fight anybody.
Also, because it's a Hong Kong movie, it's got that thing where it's crazy violence and there's comedy with the characters bickering and everything but by the time it gets around to some emotional parts you realize you actually care about these characters. And these guys aren't The Expendables, they actually are expendable. Alot of them die, and it's sad. But they get good movie deaths – horrendous ones (don't make the mistake of showing mercy even to a child, you don't know if he's a kid who gets off on playing Russian roulette with prisoners) and heroic ones (if you and your buddy are bleeding to death you might want to hang out smoking a cigarette and wait until the enemies approach so you can blow up a pile of bombs right in front of them).
Sammo is slimmer than usual in this one, and is not the comedic character he often plays. He's more like a Chow Yun Fat character, but with martial arts skills. He wears a headband and uses a machete a bunch, maybe to look like Rambo. I'm not sure if he's trained to eat things that would make a billygoat puke, but I do know that he has this trick where he can turn a leaf into a self-firing dart that can impale a guy's neck.
Yuen Biao is Weasel (at least on the subtitles of the copy I saw), kind of the cool outsider among this dirty dozen, because he's a Hong Kong smuggler they find along the way, not an official member of the team. He drives a crazy bike with balloons on it and has a funny haircut with lopsided bangs and only helps out to save his ass but ends up being maybe their best fighter.
Yuen Woo Ping is Mouse, an older more complaining guy on the team, mostly comic relief, but he runs headlong and slow motion into a hail of gunfire with the best of them. Even when he's told not to.
But the standout character for me is "Guerilla Girl #1." I know she actually has a name in the movie, but I forgot what it was, and it's not on the credits. But she's played by Joyce Godenzi, Miss Hong Kong 1984 and Mrs. Sammo Hung 1995-present. She's a striking looking woman of both Chinese and Australian descent, but always stone-faced as she throws herself into danger. She earned my respect enough that even when her goals were at odds with what our guys wanted I found myself rooting for her.
This great ensemble goes up against an excellent villain, a prissy general (Yuen Wah) who likes to fan himself and dab the sweat from his forehead with a folded hanky. He does this after some of his soldiers get blown up right in front of him, so he seems like a caricature of a military leader who doesn't have to get his hands dirty. (SPOILER) But in the end when he gets cornered he sort of transforms into a Shaw Brothers villain, a lanky older gentlemen who's the master of some type of mantis kung fu style. So he gives 'em a good fight.
There are too many classic moments in this movie to list them all, so many great moves. There's a stunt where a real ox drags a cart over a bump that sends 4 actors flying. There's one where Sammo bounces 4 times off a metal roof like it's a trampoline (3 of those bounces in one shot) and then through straw thatching to machete fight the guys inside. But I think my very favorite thing in the movie is a little moment, and it's right after Sammo slow-motion cliffjumps into the back of a transport truck, punches one of the soldiers off and subdues the other nine with two hand grenades.
One thing the soldiers don't realize – not that they care that much right now anyway – is that Weasel and Guerilla Girl are running up behind the truck: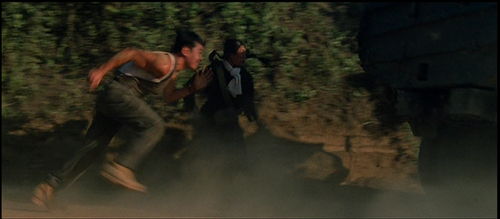 they jump on…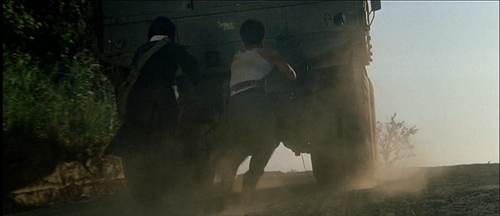 and that's when the moment happens – the Exchanged Glance of Camaradery.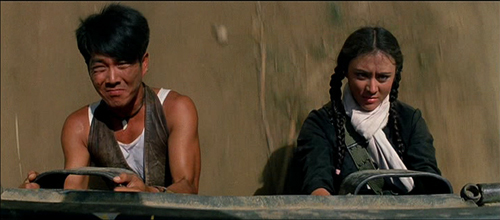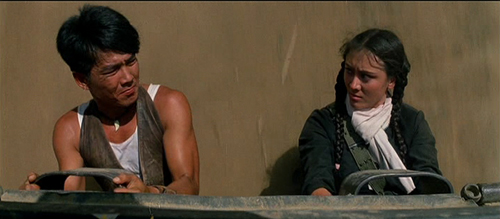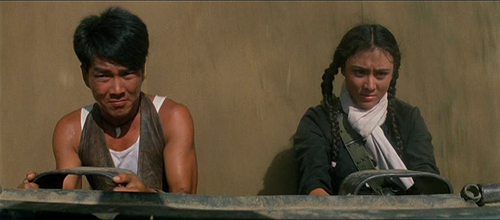 (This scene also contains something that can only be called The Half-Suppressed Smile of Satisfaction 'Cause You Know It's Awesome That You're Hanging On the Bottom of a Truck)
This movie is a straight up classic. When you think about it it's kind of rare to have a movie like this, that's jam-packed with incredible action sequences but also has characters that you really like. If you haven't seen it, don't make the same mistake I made for a quarter of a century. Let EASTERN CONDORS into your life. Give it a bounce. Jump under a truck with it.
P.S. I almost forgot to mention that this is one of those movies they used to have where the end credits have a montage of highlights from throughout the movie, like "Remember how awesome this was when this happened?" And it's the best version of that I've ever seen because the stunts and explosions and things they show are so consistently great that I kept thinking "That was awesome!" and "Oh yeah, that was awesome too!" and "Oh geez, that part too, that was amazing!"

This entry was posted on Wednesday, June 20th, 2012 at 12:43 am and is filed under
Action
,
Martial Arts
,
Reviews
,
War
. You can follow any responses to this entry through the
RSS 2.0
feed. You can skip to the end and leave a response. Pinging is currently not allowed.