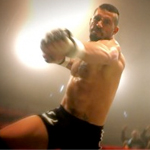 Note: the Blu-Ray cover calls it BOYKA: UNDISPUTED 4, but you know the rules – I go by what it says onscreen in the actual movie, which is simply BOYKA: UNDISPUTED.
Fuck prison fighting circuits. Time for some undisputedness on the outside – doing a flying spinning double kick while breathing the fresh air of freedom, or at least freedomishness. International martial arts superstar Scott Adkins returns to his signature role of Yuri Boyka, defeated villain of UNDISPUTED II who won an international prison fighting tournament in part III and got away at the end. Remember? The first time we ever saw him smile or laugh.
Now we find that new Boyka, the one who has experienced smiling before, in the Ukraine, openly fighting in an underground MMA outfit. The filthy prisoners chanting his name have been replaced by gambler bros in leather jackets. I don't think it matters to him, because in the now noticeably bigger ring he is alive. I don't know what kind of new camera/lens/rig they're using, but it shows him better than ever, putting you in the ring, floating around him, under him, gliding over you like a supernatural force.
When he's not grouchy he's broody, because he doesn't consider the slate clean. He's still very religious, and feels a duty to donate most of his earnings to his church. The father disapproves of his "violence" and questions whether he can seek salvation while still fighting. But Boyka says "I think God gave me this gift. And I think it would be a sin to waste it." (read the rest of this shit…)