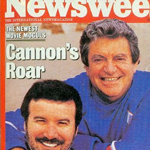 As you may have read, Menahem Golan, co-head of The Cannon Group (as well as 21st Century Film Corporation and New Cannan Group) died today at the age of 85. Don't worry, he didn't have to suffer from cancer or anything, he just collapsed while walking outside his home in Jaffa, and could not be revived. Golan was a filmmaker to the end, at least according to an IMDb listing that says he was in pre-production on a new ALLAN QUATERMAIN movie that he wrote and would've directed.
Like so many of the greats, Golan actually got his start working for Roger Corman, in his case as a production assistant on THE YOUNG RACERS in 1963. That same year he made his writing/directing debut with a Hebrew-language Israeli production called EL DORADO, starring Topol of FIDDLER ON THE ROOF fame. Throughout his career he would direct more than 40 films and produce more than 200. He and his cousin Yoram Globus started Noah Films, an Israeli production company known worldwide for the Oscar nominated satire SALLAH. But of course we know and love them for their reign as the heads of The Cannon Group, which they purchased in 1979 and turned into a prolific powerhouse of low budget action and exploitation in the VHS era.
I think we can all admit that Cannon made alot of crap. But they specialized in and pioneered the type of crap we love, and man did they have some classics too. My favorite Golan directorial works would have to be ENTER THE NINJA and OVER THE TOP. But the list of movies he produced that I love is alot longer. He presided over the entire ninja fad (REVENGE OF THE NINJA, NINJA III: THE DOMINATION, NINE DEATHS OF THE NINJA, AMERICAN NINJA). He did the BREAKIN' movies as well as RAPPIN'. He did sleaze like EXTERMINATOR 2. He had long relationships with Chuck Norris (INVASION USA is still pretty much my favorite of his movies) and more notably Charles Bronson (all of the DEATH WISH sequels, including of course our beloved DEATH WISH 3). Golan and Globus also hooked up with Tobe Hooper and produced LIFEFORCE, INVADERS FROM MARS and one of my all time favorites, TEXAS CHAINSAW MASSACRE 2. And of course there's COBRA. And their later sci-fi/fantasy type stuff like SUPERMAN IV, MASTERS OF THE UNIVERSE and CYBORG. I mean, so much of what you think of when you think of the enjoyable b-grade cinema in the '80s, it's Cannon.
One way that Golan's work helped lead to the modern era of action: he was executive producer of fellow Israeli director Isaac Florentine's first full length feature, DESERT KICKBOXER.
But did you know he also executive produced Godfrey Reggio's POWAQQATSI? I mean, why not?
Let's all pour one on the curb for Menahem Golan and discuss our favorite Cannon films.
This entry was posted on Friday, August 8th, 2014 at 5:12 pm and is filed under
Blog Post (short for weblog)
. You can follow any responses to this entry through the
RSS 2.0
feed. You can skip to the end and leave a response. Pinging is currently not allowed.