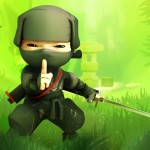 (aka NINJA II)
REVENGE OF THE NINJA isn't connected to the story of ENTER THE NINJA. Franco Nero's White Ninja character is nowhere to be seen, defying the promise of his final freeze-frame wink. Which is bullshit, man. If you're gonna wink – especially if you're gonna freeze-frame wink – you better fuckin mean it.
However, Sho Kosugi (who died in part 1) is reborn as a different character, a collector of Japanese antique dolls whose family is killed by ninjas. His white friend convinces him to take his son and mom to AMerica to open a gallery for his dolls. And I don't think I need to point out that any time in an action or fighting movie where you are discussing the hero's doll collection you are on some paper thin ice. But I'll be charitable and accept this as a fulfillment of the Theory of Badass Juxtaposition.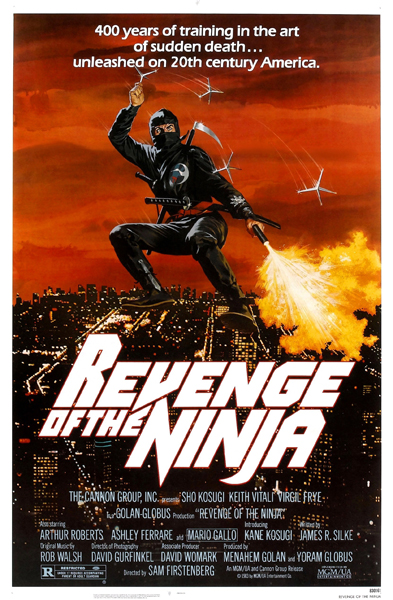 What Sho doesn't know is his white friend is an asshole and set the whole thing up so he could smuggle heroin in the dolls. Which seems like a lot of trouble to go through, but I can understand if he's uncomfortable with the traditional balloons up the butthole business model. He probaly saw MARIA FULL OF GRACE like I did. Anyway, Sho's son – played by his real son, Kane Kosugi – is a little badass. There's a funny scene where he gets picked on by bullies who could be the junior members of a gang in a Michael Jackson video. And of course he deals with them ninja style.
Little Kane is in that classic predicament: he's trained in ninjitsu fighting and swords but he isn't allowed to use it. It's tradition to practice, but the family doesn't believe in violence, he's told. That's one of the classic scenarios, the Ticking Time Bomb of Badass.
Sho also has a white assistant lady who takes care of Kane and tries to seduce Sho by training with no pants on. But it doesn't work. Later it turns out she's in on the heroin deal, and still later it turns out she's actually nice, but she's hypnotized.
In this one of course Sho is the hero, and the villain is the heroin smuggler, a Caucasian ninja. So it's a nice reversal of Part 1. This guy doesn't wear a white ninja outfit like White Ninja. He wears orthodox black with a silver demon mask to distinguish him from Sho. So I call him White Devil Ninja.
The fights are pretty cool, with lots of the ol' ninja shit that ninjas are known to get up to. Marbles in a hall so you fall and land on tacks. Tacks in the face. Grappling hook between skyscrapers. Duel on top of skyscrapers.
It's a much more respectable ninja movie than part 1, with more convincing martial arts. But the badass beats aren't quite as solid and the other one is so much more silly that it's more fun to watch. This one could've used a freeze-frame wink, in other words.
This entry was posted on Thursday, May 10th, 2007 at 8:35 pm and is filed under
Action
,
Martial Arts
,
Reviews
. You can follow any responses to this entry through the
RSS 2.0
feed. You can skip to the end and leave a response. Pinging is currently not allowed.