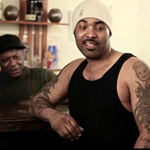 In these, the last days of movies that come in boxes, we still face the allure of a mysterious DVD cover. You're in the video store and you come across some obscure movie you never heard of before, and you can't stop wondering what the fuck it is. And eventually you have to watch it.
Or at least I do. I've been doing this thing lately, partly thanks to feedback from you guys, of submitting links to my reviews to the "external reviews" section of the corresponding entries on IMDb. I stopped doing that years ago so I've been trying to catch up, going through all the old reviews and sending them in. It forces me to see how many reviews are already linked for all kinds of movies.

THE DARK KNIGHT RISES, THE AVENGERS and PROMETHEUS had over 500 reviews when I submitted mine. Remember how there was an A-TEAM movie? That had 291 reviews. Even a small mainstream movie like STEP UP REVOLUTION had 78. That's because these were released during the internet age, with a million people out there doing the same thing I'm doing, except most of them are going to the critic's screenings each week, reviewing all the major new releases. Tediously going through these one after the other it starts to get disheartening. You start to see these newer movies as no more than a disposable product that gets churned out and chewed up. The new one comes out and everybody tries to be the first to say their opinion and then they forget about it and write about the next one. I don't want to be a part of that machine.
I mean, obviously I enjoy writing about those movies (I just did SNOW WHITE AND THE HUNTSMAN, after all), and I try to do the best job I can, hopefully better than some of those other chumps (not referring to anyone who's reading this, only the other guys. Those guys are jerks, am I right?). But going through those links really makes me feel better about my mission of going back through the older movies, or the not-that-old-but-pre-internet movies, or the obscurities. It seems more valuable to write about something that's been mostly ignored than to be the 79th opinion on THE A-TEAM. While submitting my links I saw that SHOGUN ASSASSIN had 53 reviews already. The Hong Kong movie ABOVE THE LAW had 33. SILENT TRIGGER had 11. The original '63 13 ASSASSINS had 8. BOOGIE BOY only had 5. DOLEMITE EXPLOSION didn't have any. It's so gratifying to send one of these in and see that not too many other people have explored this territory.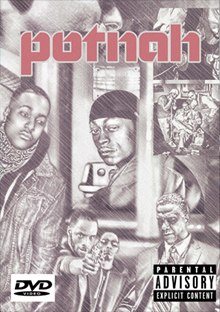 Which brings me to POTNAH. Nobody fuckin knows about POTNAH. I was drawn in by its crude photos-made-to-look-like-pencil-drawings cover, with an explicit lyrics logo instead of a rating. By the back cover, which had spelling errors and which said "BASED ON A TRUE STORY" and "THE AWARD WINNING SCREENPLAY" above the credits. Yes, they had both in quotes. And it said it was about some kind of tax free cigarette scam, which is realistic and unglamorous so it suggests possible authenticity.
If I saw this movie and it was great then I would be fuckin Indiana Jones here, snatching this thing up and bringing it to the external reviews section. I would be planting the flag on the moon. That would be awesome.
But I wasn't doing that, this movie is not good and not funny bad. Just amateurish and plain. But I'm gonna review it anyway, due to vanity.
POTNAH (I'm not sure why it's not POTNAHS) opens with a convenience store robbery where a bystander gets shot. It goes by too quick to really follow what went on, but doesn't seem to be the most significant event anyway. It skips to 10 years later when a man named Jay (Kyron Hodges) is being interrogated by police about a murder (not the one in the convenience store). He swears he's innocent and it skips back to tell his story about hanging out in a pool hall with some friends.
The owner of the pool hall, Joe, is some kind of crime boss who sends his son Daren (Alex Ubokudom) along with Jay and a couple other guys to deliver money and stuff. There's not alot of detail about how they operate. At one point they get an idea for a heist, which is to go knock on the door at a guy's apartment, rush in and grab his money and leave. Not very cinematic but kind of unorthodox in its simplicity as far as screen robberies go.
If you read the scene-by-scene plot synopsis on potnah.com you can see how convoluted the story is. (You can also purchase their other DVDs, CRACK HEADZ GONE WILD volumes 1-4). There's not much of a through-line and it jumps around in time in a way that it would have to be more interesting to get away with, in my opinion. I wasn't invested enough to try to decipher it all. The goofiest rookie thing it does is to write "LATER THAT WEEKEND" on the screen at one point. But I like the t-shirt iron-on font they use for it.
The story mostly jumps between the pool hall and the police headquarters. There's also a stretch that takes place in prison, where he plays chess and makes new friends. The actors are mostly pretty decent for an amateur production like this. The guy that plays Joe kinda seems like he might be the dude that really owns the pool hall, and Darren is convincing in his jealousy. I guess he's the Tupac in JUICE character, or the O-Dog in MENACE II SOCIETY, because he's the one who shot the lady in the convenience store robbery for no good reason.
There's a cigarette motif. In the scene that I think takes place earliest in the chronology there's a whole thing about how Darren sets down a pack of cigarettes and somebody steals it. In the failed convenience store robbery Jay took a carton of smokes as a gift for Darren (he can't remember if he took it before or after he shot the woman – so we don't know for sure how much friendship it represents). Later, while Darren is jealous that his dad gave the job he wanted to Jay, he stands away from the others smoking a cigarette. After prison Jay has gone straight and opened a barber shop but his buddy from the joint Marky T convinces him to take part in a tax free cigarette selling scam. Actually, they never really call it a scam, they claim it's perfectly legal and even Jay's police officer wife thinks it's okay.
The wife is a pretty goofy part of the movie. The guy interrogating Jay is so nice he lets his wife come in and be sort of involved in the investigation. At no point in the movie does she seem like an actual police officer. She just wears normal clothes with a badge hanging around her neck. When she first hooks up with him she's walking down the street with another girl and sort of flirts with him in front of his barbershop, then they walk away. They looked like they were just walking somewhere together, but they had badges on, I guess they were supposed to be on patrol.
The filmatists aren't ready to create a really involving story or believable characters, so the main thing it has going for it is rawness. I just wish it went into more detail about the criminal operations, especially the cigarette selling. Then it might have some kind of an Iceberg Slim type of "this is how it goes down" appeal that might make you forgive its shortcomings.
To me the best thing about the movie is the locations. The pool hall is one tiny room with a tinier office off of it. But it has a little bar, a real old stereo under a flat screen TV, and framed photos of people's cars all along the walls. It's so small time that it could only be real. It's kinda refreshing to see a movie like this where the criminals aren't laying around by swimming pools and thinking they're Scarface. And also they're not complaining about not having that. They seem happy with what they got.
The co-writer and star, Kyron Hodges, has a bio on the websight. It's probly a couple thousand words in all caps and is a story of woe, crime, child abuse, suicide, etc. It ends by saying "SINCE THEN IVE MADE MILLIONS AND HAD THEM TAKEN, MY LIFE FROM THAT POINT ON YOU WILL HAVE TO WAIT TO SEE IT ON YOUR TV SCREEN HOPEFULLY IN THE VERY NEAR FUTURE. ITS TITLED 'POTNAH' (PARTNER) ITS WRITTEN BY ME AND I WON THE BEST SCREENPLAY AWARD IN LAST YEARS POCONO MOUNTAIN FILM FESTIVAL, AND WAS THE INSPIRATION FOR ACTOR JAMIE HECTOR (MARLO STANSFIELD) IN THE SEASON FINALE OF HBO'S HIT SERIES 'THE WIRE'. TALK ABOUT CHANGE!"
And on the credits there's a dedication to his mom, basically saying your son did it, he made a movie. So on that front they were successful and I can only be happy for them.