AFTER DARK ACTION (that new low budget action company I wrote about here) put up their websight today and announced their schedule. In the tradition of the same company's AFTER DARK HORROR-FEST they're gonna be unleashing 5 new action movies in select theaters and on video-on-demand on May 11th. So far Seattle is not on the list of cities, but I'm keeping my fingers crossed. Not literally, that would be stupid.
All five of the movies sound like something I would watch, some more than others. Among their casts are two of our favorite '80s/'90s action icons, 2 of our favorites from the 2000s, one star of a STEP UP sequel, my favorite Justified villain, and Christian Slater.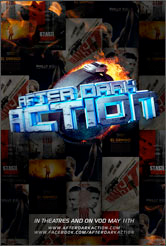 The movies are (in reverse-anticipation order)
THE PHILLY KID
is something about an ex-con/former NCAA wrestler having to throw a match in a cage fighting tournament to save a friend's life, or something like that. It stars Wes Chatham (THE HELP), Devon Sawa (FINAL DESTINATION), Jennifer Butler (I SPIT ON YOUR GRAVE remake) and the great Neal McDonough (Robert Quarles on this season of Justified), possibly as some sort of coach. Michael Jai White is in it, but listed real low down on the cast. The director is Sean Connery's son Jason.
TRANSIT
A family who are having trouble getting along go on a family trip and get terrorized by bank robbers. The star is Jim Caviezel, who has a thing for under-the-radar b-movies if you take a look at NATURE'S GRAVE (remake of LONG WEEKEND), OUTLANDER and especially HIGHWAYMEN. This also stars Diora Baird (TEXAS CHAINSAW MASSACRE: THE BEGINNING), James Frain (TITUS) and Harold Perrineau (MATRIX sequels).

STASH HOUSE
A young couple (Sean Faris, the Tom Cruise lookalike star of NEVER BACK DOWN 1, and Briana Evigan, cute tomboy star of STEP UP 2 THE STREETS) get a great deal on a house, then realize there might be a catch when they find a bunch of drugs hidden in the walls. Also their neighbor (Dolph Motherfuckin Lundgren) shows up with a gun.
EL GRINGO
This is exciting because it's the first (somewhat) theatrically released Scott Adkins vehicle. He plays the titular white man in Mexico with $2 million "and a bloody past." Christian Slater is the bad guy. Unless IMDb is wrong, Michael Jai White, Darren Shahlavi and Matt Mullins are also in the cast, and Isaac Florentine is one of the many producers. Other good signs: cinematographer Yaron Levy did NEVER BACK DOWN 2 and UNIVERSAL SOLDIER: A NEW DIMENSION. Stunt coordinator Borislav Iliev did UNDISPUTED III and UNIVERSAL SOLDIER: REGENERATION.
Director Eduardo Rodriguez also did STASH HOUSE, so hopefully he knows what he's doing.
And of course the one I'm most excited about is
DRAGON EYES
which I wrote about here. It's our first John Hyams directorial work since UNIVERSAL SOLDIER: REGENERATION, it's a moder day YOJIMBO/FISTFUL OF DOLLARS/LAST MAN STANDING reworking starring Strikeforce-turned-UFC fighter Cung Le, with Jean-Claude Van Damme as the guy who teaches him how to fight in prison. I got a PAL code 2 version on pre-order but if it's as good as I'm hoping I'll probly want to see it on the big screen too.
Anyway, I look forward to these movies and I'm glad somebody is taking a shot at the sort of thing we've been saying somebody should do for years. We'll see how it goes. Fingers crossed (literally this time, what the hell?) for no shakycam.
This entry was posted on Tuesday, April 3rd, 2012 at 1:10 am and is filed under
Blog Post (short for weblog)
. You can follow any responses to this entry through the
RSS 2.0
feed. You can skip to the end and leave a response. Pinging is currently not allowed.