Last year it was in the news that James Franco wanted to direct an adaptation of Cormac McCarthy's Blood Meridian. Other– let's say, more experienced directors like Ridley Scott had tried already, but the book defeated them. Now here's this young actor, he's got a couple Oscar nominations under his belt, but he's often confused with his dumb stoner comedic persona and called pretentious for his goofball side projects like being on General Hospital and going to Yale. He apparently shot a 20-minute test film starring Mark Pelligrino, Scott Glenn, Luke Perry and his brother Dave to prove his directorial chops. Later he was moved over to a different McCarthy project, CHILD OF GOD.
But here's the thing: he was already a director. In 2005 he directed, starred in and adapted (from his own play) THE APE, about a writer sharing a New York City apartment with a slobby gorilla. (He has other directing credits on IMDb too, but this looks like the earliest one available on video.)
Franco plays Harry, a phone company worker who separates from his wife and young son to be alone and focus on finishing his novel, of which he's only written two words so far ("The man…"). He thought being alone with his giant framed photo of Dostoevsky would allow him to really focus and be productive, but didn't realize that the lease would require him to live with a talking ape (possibly imagined, possibly a metaphor for his bestial, macho id, definitely giving him lice).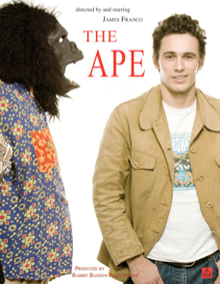 The Ape (or just "Apey" he usually calls him) is played by an actor named Brian Lally in a cheap Halloween mask. It's apparently the same one they used on stage – they didn't go the WAR HORSE route and upgrade to a real gorilla for the movie. The mouth moves when he talks, but you can see light through the eyeholes when he's in profile. I don't think Weta Workshop or Andy Serkis were involved at all.
But he isn't trying to seem like a real gorilla anyway. He wears a Hawaiian shirt and Chuck Taylors, and doesn't want to return to the wild because "I'm a New Yorker."
After Harry fails to get rid of Ape they end up buddies and writing partners. Ape influences Harry to let go of societal rules, cheat on his wife, etc. When that doesn't go so well it almost seems like he's gonna let the ape fuck him, but I don't think it's trying to imply that it did happen. They're just roommates. It's not what it looks like.
It's a little like BARTON FINK because he's struggling with writer's block and also because he's so convinced of his own greatness while working on a clearly terrible book. I think Franco is a funny guy and his enthusiasm for "the perfect ending to the perfect novel!" makes me laugh. Some of the supporting actors (who come from the acting class he originally wrote the play for) aren't as natural as him, they feel very Indie Comedy That Played a Few Festivals. But that's okay. I like that (like a play) it's willing to throw in tangental scenes like a long cafeteria conversation between his cubicle-neighbor and another co-worker. He probly wrote it just to give them more to do, but it's kind of a nice detour.
Franco's had a weird career. He was so good on that Freaks & Geeks show, funny but also dramatic when necessary, but nobody really paid attention at the time. Then he played James Dean in a TV movie and got stuck playing broody handsome guys for years. For example he's in the SPIDER-MANs and I kind of like him in those but it seems like a waste of his talents and his charisma. Eventually he got to be good and critically acclaimed in movies like MILK and 127 HOURS, but I think his best work is when he returned to being funny in PINEAPPLE EXPRESS and, yes, the widely despised YOUR HIGHNESS.
Anyway for years he was broody guy, then as soon as he starts getting to do other stuff people started hating him. How dare that motherfucker do a bunch of different stuff?
If you do have a problem with it I recommend watching this interview he did on The Colbert Report. He's promoting a KRULL parody with a pot joke in the title but he spends his time presenting a thoughtful analysis of why people are suspicious of him and why he thinks Colbert is a better artist than himself. In part 2 he seems to actually impress Colbert with his almost-right answers to an impromptu J.R.R. Tolkien quiz. How you gonna hate this guy?
It's weird that he did THE APE and then RISE OF THE PLANET OF THE APES. I wonder if he used his experience pretending to live with an ape in this movie to get that role. He also shot some interstitial scenes with a real ape in a grungy room holding signs with chapter titles. Kind of an arty GUMMO type of look to those.
But the most interesting thing about this is that it sort of puts the lie to that idea that Franco is some pretentious poseur Artiste. If so he definitely has a sense of humor about that aspect of himself, because he makes fun of it like a little brother that recently peed his pants. Franco portrays a probly talentless nobody who (like us) dreams of creating some great work and breaking out of his unfulfilling job. But he's more passionate about the label of Writer than about anything he actually wants to say through his writing. He has this romanticized notion of the writer's life and he fakes it at the cost of whatever actual life he previously had. He brags about leaving his wife and kid to write a book. He thinks it proves he's a real artist, doesn't realize it just makes him an asshole. An ape.
THE APE is not an entirely successful movie, but I think it's an admirable one. I laughed at times and I related to it at times and there was a gorilla many other times. I haven't read Blood Meridian yet but from what I understand that was the problem, there was no gorilla.
(Seriously, it's not nearly as bad as that trailer.)
This entry was posted on Saturday, April 7th, 2012 at 8:15 pm and is filed under
Comedy/Laffs
,
Reviews
. You can follow any responses to this entry through the
RSS 2.0
feed. You can skip to the end and leave a response. Pinging is currently not allowed.