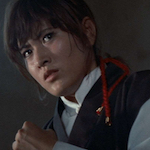 I've reviewed and enjoyed Sonny Chiba's three STREET FIGHTER movies (THE STREET FIGHTER, RETURN OF THE STREET FIGHTER and THE STREET FIGHTER'S LAST REVENGE), so now it's time to get started on the SISTER STREET FIGHTER quadrilogy. It was marketed (at least in the U.S.) as a spin-off of the other series, but star Etsuko "Sue" Shihomi is not playing her character from THE STREET FIGHTER, or her other character from THE STREETFIGHTER'S LAST REVENGE, and Chiba is in it not playing "Terry" Tsuguri. There's no narrative connection, but it is in a similar vein of funky contemporary karate blast full of fun comic book gimmicks, cool '70s fashion and exaggerated violence.
Shihomi (GOLGO 13: ASSIGNMENT KOWLOON) plays Koryu, a Hong Kong martial artist who gets sent to Yokohama to search for her brother Mansei (Hiroshi Miyauchi, Kamen Rider, Go Ranger, Spider Man, REBORN FROM HELL II: JUBEI'S REVENGE), a narcotics agent who disappeared while undercover in a heroin smuggling ring. Kuryo has other family there. She beats up some assholes in front of her restaraunteur uncle (Hiroshi Kondo, GRAVEYARD OF HONOR, WOLF GUY), who is delighted that she's "still a tomboy," and cousins (Tatsuya Nanjo [TOKYO DEEP THROAT] and Nami Tachibana), who ask her for lessons and tell her she's famous in Japan as the Hong Kong Martial Arts Champ. (Nobody else seems to recognize her.) (read the rest of this shit…)
VERN has been reviewing movies since 1999 and is the author of the books SEAGALOGY: A STUDY OF THE ASS-KICKING FILMS OF STEVEN SEAGAL, YIPPEE KI-YAY MOVIEGOER!: WRITINGS ON BRUCE WILLIS, BADASS CINEMA AND OTHER IMPORTANT TOPICS and NIKETOWN: A NOVEL. His horror-action novel WORM ON A HOOK will arrive later this year.