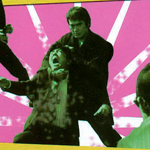 "I make the impossible possible. Takami Tsurugi. Remember that if you want to live long."
The thrilling conclusion to Sonny Chiba's STREET FIGHTER trilogy is called THE STREET FIGHTER'S LAST REVENGE, but it doesn't really feel like a finale. It feels more like another in what should be an endless series of adventures. Though released in 1974, the same year as the other two, Chiba's black-clad anti-hero-for-hire Tsurugi seems to have evolved his operation. After taking a recruitment call he rotates the phone attached to his wall, opening a secret door to a room full of uniforms, wigs and latex masks. He's a fuckin master of disguise now!
His mission is to retrieve Go Owada (Akira Shioji, who played a different character in the first movie) from the midst of a violent worker strike at a chemical plant. Tsurugi impersonates a member of the riot squad and breaks ranks to bust through the window, go in and beat the shit out of everybody, steal a specified black mah jong case, arrest Owada, steal a police car and bring him to the mobsters who hired him.
But they pay him with a briefcase full of shredded newspaper, which was not the deal in my opinion, so he fights them and they're enemies now. (read the rest of this shit…)