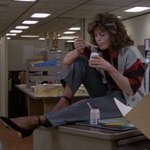 One of our nation's perennial VHS favorites, NINJA III: THE DOMINATION, has recently made the transition to digital and high definition disc type formats courtesy of the heroes at Shout Factory. Check out my review of the new blu-ray over on Daily Grindhouse. If you also want to read a review I wrote of the movie a couple years ago then you can click here.
This entry was posted on Tuesday, June 25th, 2013 at 1:08 am and is filed under
Horror
,
Martial Arts
,
Reviews
. You can follow any responses to this entry through the
RSS 2.0
feed. You can skip to the end and leave a response. Pinging is currently not allowed.