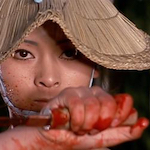 LONE WOLF AND CUB: BABY CART IN PERIL is #4 out of six LONE WOLF AND CUB films, and comes pretty directly out of the stories from the late Kazuo Koike's manga about the former Shogun's-executioner who was framed by the god damn Yagyu Clan (fuck those guys) and now travels Japan with his young son Daigoro, working as a freelance assassin along his "Demon's Path" toward vengeance and damnation. He usually ends up doing something very honorable that seems a little more like redemption, but he doesn't see it that way. He thinks he's the devil. This was before heavy metal, too.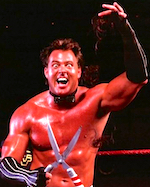 This one's kinda got an A and B plot. One of them (take your pick which letter it is) involves the badass Oyuki (Michi Azuma, who played a different character in BABY CART AT THE RIVER STYX – they should do that in more American movie series), a former "sword mistress" gone rogue so she can avenge her former mentor for raping her. One of her trademarks is to cut off the top knots of all the motherfuckers who come after her, which in their culture seems to be even more humiliating than when Brutus "The Barber" Beefcake used to badly shave the heads of those he defeated in the ring. (read the rest of this shit…)
VERN has a new action-horror novel out called WORM ON A HOOK! He has been reviewing movies since 1999 and is the author of the film criticism books Seagalogy: A Study of the Ass-Kicking Films of Steven Seagal and Yippee Ki-Yay Moviegoer!: Writings on Bruce Willis, Badass Cinema and Other Important Topics as well as the crime novel Niketown.