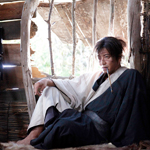 BLADE OF THE IMMORTAL is a 2017 samurai epic from director Takashi Miike. It's his 100th film! Can you believe that shit? I haven't gotten into his trademark pervert madman vibe in movies like ICHI THE KILLER, but nothing I've seen by him has been a slapdash Fred Olen Ray type affair. There is real effort and craft involved, and he's made a few excellent samurai films. Instead of remaking an old school chanbara as with 13 ASSASSINS and HARA-KIRI: DEATH OF A SAMURAI this one is adapting a manga that ran for about twenty years, so it's less classically structured, more unwieldy, with supernatural elements and outrageous imagery (crazy face paint, strange weapons, goofy anime hair).
This aesthetic looks particularly cool in the stark black and white of the prologue, where we learn the bloody, convoluted origins of the titleistical immortal. As a young samurai, Manji (Takuya Kimura, Howl in HOWL'S MOVING CASTLE) was tricked into assassinating a whistleblower. He thought it would right things to kill the corrupt officials behind the scheme, but one was his little sister Machi (Hana Sugisaki, Mary in MARY AND THE WITCH'S FLOWER)'s husband, and the grief drove her insane. (read the rest of this shit…)
VERN has been reviewing movies since 1999 and is the author of the books SEAGALOGY: A STUDY OF THE ASS-KICKING FILMS OF STEVEN SEAGAL, YIPPEE KI-YAY MOVIEGOER!: WRITINGS ON BRUCE WILLIS, BADASS CINEMA AND OTHER IMPORTANT TOPICS and NIKETOWN: A NOVEL. His horror-action novel WORM ON A HOOK will arrive later this year.