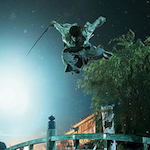 "Avow Life and Be True"
RUROUNI KENSHIN PART II: KYOTO INFERNO (2014) is an epic sequel that builds on everything I loved about the first one (trust me – check that out if you haven't!) and expands on this idea of a post-war world where various veterans either try to bring back the violence or maintain (and enjoy) the new order. Our hero is so badass and yet so against killing that he wanders around with a "reverse blade" – a sword sharpened only on the back side – to whoop ass and take names but not lives.
Played by one-time Kamen Rider (and co-star of my beloved SAMURAI MARATHON) Takeru Satoh, Kenshin is younger and prettier than I usually prefer in an action hero. But he makes it almost a badass juxtaposition, and he's such a cool character – he's seen shit you never dreamed of, but doesn't use it as an excuse to brood. He's quiet but not exactly stoic – he smiles and seems content during peace time, even laughs when he sees himself parodied in a play. Everywhere he goes people seem to recognize him as Battousai, the name he went by when he was a legendary killsword (the government's teenage super-murdering-the-fuck-out-of-everybody assassin). But his friends call him Kenshin, the name he took after abandoning his bloody sword at the Battle of Toba-Fushimi. The real him.
Admittedly he sounds a little dorky later when he angrily growls the villain's name to show that he's had it, but I forgive him. I appreciate that we don't see that side of him very often. (read the rest of this shit…)