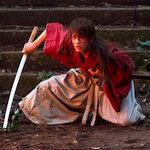 I know Rurouni Kenshin was a '90s anime series (sometimes called Samurai X) based on a manga and all that. I don't usually pay much attention to that sort of thing, but also I knew there was a series of live action movies starting in 2012 with this one, RUROUNI KENSHIN I: ORIGINS. And I've been hearing for a long time that it has some really good sword fighting in it, so I've been meaning to see it.
But man, if I knew what it was about, I wouldn't have waited so long! It's true that it has some good sword fighting and other fun samurai shit in it, but also this is that most rare and beautiful type of action movie: the type that fits lots of fun action into a story that preaches against violence. It shows that nothing could be more badass than a guy who can kill a whole mob of people on his own but chooses to prove it to them while not doing it.
To put it another way, the hero Kenshin (Takeru Satoh, SAMURAI MARATHON) was such a scary motherfucker killing people for the government in his teens that everybody knew him as "Battosai the Killsword," but now he's so against killing that he travels around with a sword that is only sharpened on the back side of the blade.
So yeah, don't worry, he'll still be sword fighting. He'll just be whapping them instead of slashing them. (read the rest of this shit…)