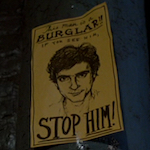 "I just wanted to leave my apartment, maybe meet a nice girl. And now I've got to die for it!"
AFTER HOURS is Martin Scorsese's take on the "staying up all night and a bunch of crazy shit happens" movie (see also INTO THE NIGHT, MIRACLE MILE, EDMOND). This one follows Paul (Griffin Dunne), a young word-processing drone who lives alone in a small apartment in New York City. After a boring day at work he goes to a cafe to re-read what he says is his favorite book, Tropic of Cancer by Henry Miller. A woman named Marcy (Rosanna Arquette, same year as SILVERADO) is by herself at a nearby table, notices what he's reading and says "I love that book." He doesn't even hear her at first. But she starts trying to quote it.
Suddenly she moves to his table to get him to look at the weird cashier (Rocco Sisto, INNOCENT BLOOD, ERASER, THE AMERICAN ASTRONAUT), who seems to be practicing dance moves. She's about to leave but they have a short, weird conversation that includes 1) telling him she's staying with her friend Kiki Bridges and 2) giving him Kiki's phone number so he can inquire about her sculptures of bagels and cream cheese. (read the rest of this shit…)
VERN has been reviewing movies since 1999 and is the author of the books SEAGALOGY: A STUDY OF THE ASS-KICKING FILMS OF STEVEN SEAGAL, YIPPEE KI-YAY MOVIEGOER!: WRITINGS ON BRUCE WILLIS, BADASS CINEMA AND OTHER IMPORTANT TOPICS and NIKETOWN: A NOVEL. His horror-action novel WORM ON A HOOK will arrive later this year.