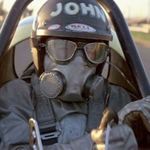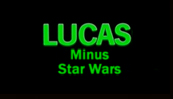 1977 saw the release of George Lucas's third film, STAR WARS. It did well. But the experience of making it was troubling enough to make Lucas rethink his dream of directing films. He decided to redirect his energy toward producing for other directors, and in fact he didn't direct again for 22 years. But in 1979, as an executive producer, he brought back the characters from his second film.
I'm not gonna try to convince you that it was a good idea to make a sequel to AMERICAN GRAFFITI six years after the first one, but this is a much better sequel than I was figuring on. Definitely more interesting and ambitious than you would guess. I bet what happened was they wanted to do MORE THX-1138 but when the first one wasn't a hit they rewrote the script for these characters.
While REGULAR AMOUNT OF AMERICAN GRAFFITI dealt with the cultural shifts of the '60s by nostalgifying the times right before the a changin', this one actually dives straight into the muck. The first thing you see is army helicopters over Vietnam, and there are more hippies and protests in this one than cars cruising the strip. It still doesn't deal directly with the civil rights movement, but there are hints.
The impressive part is the structure. We find the gang back together on New Year's Eve, 1964. Laurie (Cindy Williams) is now pregnant with twins, married to Steve ("special appearance by Ron Howard," but it seems like a genuine role to me, not a cameo). Debbie (Candy Clark) and Terry the Toad (Charles Martin Smith) are still together, but he's shipping out to 'Nam tomorrow to "Kick ass, take names and eat Cong for breakfast." They all come visit their cool drag racer friend John Milner (Paul Le Mat) at the track, where he's trying to win races, attract a sponsorship and build a legit driving career. So it seems like it will be another day-in-the-life with this group of friends as they're all on the verge of major life changes. (read the rest of this shit…)