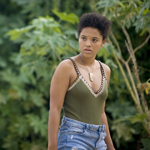 SWEETHEART is a simple little horror movie from second-time writer/director J.D. Dillard (SLEIGHT). It only has a couple characters, most of the time only two, and only one of those is human. Jenn (Kiersey Clemons, DOPE) wakes up face down on an island shore, life vest on, having survived some unspecified boat disaster. A friend or acquaintance of some kind, Brad (Benedict Samuel, the Mad Hatter on Gotham), has washed up too, but he's impaled on some kind of shell, and he doesn't last long.
So it's a castaway movie. Jenn immediately proves to be very resourceful, smashing through a coconut with a sharp rock to get water. She finds her luggage, and manages to be well dressed in beach attire throughout the movie. She also finds luggage from someone else who's been on the island, but maybe a long time ago. Long enough to have a Gameboy.
For a bit it seems like some puzzle-oriented video game like Myst, because she's looking at objects and photos, piecing together a bit of a backstory for characters we never even see. There's a journal, but it got wet enough that all the ink smeared away. (read the rest of this shit…)
VERN has been reviewing movies since 1999 and is the author of the books SEAGALOGY: A STUDY OF THE ASS-KICKING FILMS OF STEVEN SEAGAL, YIPPEE KI-YAY MOVIEGOER!: WRITINGS ON BRUCE WILLIS, BADASS CINEMA AND OTHER IMPORTANT TOPICS and NIKETOWN: A NOVEL. His horror-action novel WORM ON A HOOK will arrive later this year.