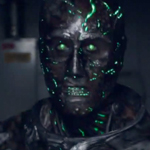 What you gotta do with some of these movies, you gotta wait a year, so it's after it already came out and the director publicly disowned it and it flopped and everyone said it was a piece of shit and dissected how the studio reshoots ruined or failed to save it. That's what I did and then FANTASTIC FOUR didn't seem as bad. I'd go so far as to say I kind of enjoyed watching it.
The opening threatens to be GREEN LANTERN, with its kid versions of two of the four. But it's okay, it just establishes that Reed Richards (Miles Teller, FOOTLOOSE) is a genius inventor prodigy and Ben Grimm (Jamie Bell, SNOWPIERCER) is his working class buddy who helps. When their high school science project actually warps matter to another dimension, Reed gets a scholarship to The Baxter Institute, where Sue Storm (Kate Mara, TRANSSIBERIAN) and her dad Dr. Franklin Storm (Reg E. Cathey, THE MACHINIST) plus grouchy ex-student Victor Von Doom (Toby Kebbell, DAWN OF THE PLANET OF THE APES) are working on a similar project. With Baxter's son Johnny (Michael B. Jordan, CREED) taking Ben's assistant role, they build a dimensional portal to be used by NASA.
That's when they make a poor decision: they get drunk and call Ben and try the thing out themselves. (Not "The Thing." The dimensional portal thing.) That's pretty original, actually. I believe Ultron is the only other comic book movie character with a scientists-had-a-few-too-many-beers origin. (read the rest of this shit…)
VERN has a new action-horror novel out called WORM ON A HOOK! He has been reviewing movies since 1999 and is the author of the film criticism books Seagalogy: A Study of the Ass-Kicking Films of Steven Seagal and Yippee Ki-Yay Moviegoer!: Writings on Bruce Willis, Badass Cinema and Other Important Topics as well as the crime novel Niketown.