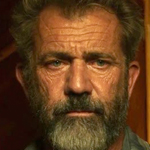 BLOOD FATHER is the kind of simple story that I like. Ex-con, now-sober John Link (Mel Gibson, GET THE GRINGO) tries to help his long-missing daughter Lydia (Erin Moriarty, THE KINGS OF SUMMER) get away from a cartel that wants her dead. To do it he has to violate his parole, go into bars, talk to bad people from his past (people he did time for who are still free, people he did time with who are still locked up), and of course kill some people. He's reluctant – in fact he's pissed about it – and his sponsor Kirby (William H. Macy) is freaking out. But by diving back into this darkness (while trying to keep the guns and the meth out of Lydia's purse) maybe he can find some kind of redemption. He can see that her life is a huge mess, and he knows where she got that from.
This is a badass tough guy movie, but the action (blunt, old fashioned) is pretty slim. Doesn't matter, it's a character movie. Gibson, with beard and craggy face, looks cooler and scarier than ever, and at one point he has an explosion of anger that recalls both his mad, lethal history of craziness on screen and its less fun counterpart in real life. But mostly he's that grumpy dude who's actually a sweetheart. Crotchety about the AA shit, but genuine about staying clean. Living in a much worse trailer than Riggs, but seems to be an active member of his trailer park community, not some loner. Pissing off his ex-wife, but mostly by not letting go of his obsessive search for their runaway daughter. (read the rest of this shit…)
VERN has been reviewing movies since 1999 and is the author of the books SEAGALOGY: A STUDY OF THE ASS-KICKING FILMS OF STEVEN SEAGAL, YIPPEE KI-YAY MOVIEGOER!: WRITINGS ON BRUCE WILLIS, BADASS CINEMA AND OTHER IMPORTANT TOPICS and NIKETOWN: A NOVEL. His horror-action novel WORM ON A HOOK will arrive later this year.