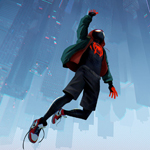 SPIDER-MAN: INTO THE SPIDER-VERSE is the 7th motion picture starring Spider-Man (not counting unauthorized Turkish ones), the second Sony In Association With Marvel movie of 2018, and probly only the third biggest Marvel Comics movie of its year. But I honestly think it's revolutionary. Not necessarily for super heroes – its story of colliding alternate dimensions is clever, but built on familiar comic book traditions – but for animated features. Somehow Sony, who had been considered so clueless about what to do with Spider-Man that they had to farm him out to Marvel, found people who knew how to celebrate the vast history, meaning and potential of the character in a completely new cinematic way.
So much has been done in computer animation since TOY STORY. There have been many great achievements in the form, including two funny super hero movies in the INCREDIBLES series. But the kineticism and print-inspired graphic playfulness of SPIDER-VERSE feels completely new. The Spider-men-and-women run and flip and swing and glide in exaggerated splash page poses true to the history of cartooning but rarely possible in computer models. They're (mostly) rendered in three dimensions, but with line art details and outlines and Zip-a-Tone dot shading. Some shots or characters are done in traditional hand drawn animation. Backgrounds sometimes have spray paint coloring in honor of the movie's graffiti writer protagonist. Comic book description boxes, sound effects and motion lines – most importantly Spidey-Sense wiggle lines – appear on screen. The filmatism includes split screens, pseudo time lapse, jump cuts and hotshot flying camera moves that seem more at home in this cartoony animation than in the special effects movies where they have to pass for live action. (read the rest of this shit…)
VERN has a new action-horror novel out called WORM ON A HOOK! He has been reviewing movies since 1999 and is the author of the film criticism books Seagalogy: A Study of the Ass-Kicking Films of Steven Seagal and Yippee Ki-Yay Moviegoer!: Writings on Bruce Willis, Badass Cinema and Other Important Topics as well as the crime novel Niketown.