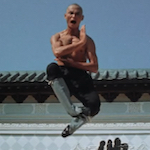 SHAOLIN AND WU-TANG a.k.a. SHAOLIN VS. WU-TANG is the 1983 directorial debut of Gordon Liu, made right before THE 8-DIAGRAM POLE FIGHTER. Liu also co-stars as the young representative of Shaolin in the titular rivalry. It's an independent production (distributed by Hing Fat Film Co.) but feels very much like Liu's Shaw Brothers movies, maybe partly because it's produced and choreographed by 36TH CHAMBER OF SHAOLIN director Lau Kar-leung.
Jun-kit (Liu) and Fung-wu (Adam Cheng, ZU: WARRIORS FROM THE MAGIC MOUNTAIN, SEVEN WARRIORS) are the respective top students at Shaolin and Wu Tang schools in the same city. Although their masters (Han Chiang and Hoi-San Kwan) have a bit of a rivalry when they run into each other in town, their students laugh it off and hang out at the brothel together. But they make the mistake of sparring there, showing off their abilities in a friendly competition. Word gets to the local Qing Lord (Wang Lung Wei, MASTER OF THE FLYING GUILLOTINE, THE BOXER'S OMEN, THE SEVENTH CURSE), who says "If what you say is true, the Shaolin and the Wu Tang could be dangerous," as famously sampled by Wu-Tang Clan on "Bring Da Ruckus." So he decides he must learn both styles to protect himself. (read the rest of this shit…)
VERN has a new action-horror novel out called WORM ON A HOOK! He has been reviewing movies since 1999 and is the author of the film criticism books Seagalogy: A Study of the Ass-Kicking Films of Steven Seagal and Yippee Ki-Yay Moviegoer!: Writings on Bruce Willis, Badass Cinema and Other Important Topics as well as the crime novel Niketown.