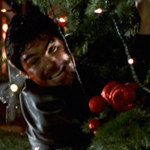 CHRISTMAS RUSH (or BREAKAWAY on DVD) is a 2002 action movie made for the cable channel then known as TBS Super Station. (Other original TBS movies that year: DEAD IN A HEARTBEAT, DISAPPEARANCE, ATOMIC TWISTER, COUNTERSTRIKE, FIRST SHOT). It's a DIE-HARD-in-a-mall type setup and I believe the only DIE HARD copycat besides DIE HARD 2 that takes place at Christmas time.
Dean Cain (A CHRISTMAS ADVENTURE …FROM A BOOK CALLED WISELY'S TALES, A CHRISTMAS WEDDING, THE DOG WHO SAVED CHRISTMAS, THE CHRISTMAS GIFT, A NANNY FOR CHRISTMAS, THE DOG WHO SAVED CHRISTMAS VACATION, THE CASE FOR CHRISTMAS, THE DOG WHO SAVED THE HOLIDAYS, DEFENDING SANTA, SMALL TOWN SANTA, A BELLE FOR CHRISTMAS, MERRY EX-MAS, BEVERLY HILLS CHRISTMAS, A DOG FOR CHRISTMAS, BROADCASTING CHRISTMAS) plays Cornelius Morgan, edgy Chicago cop who gets suspended and is being sued for a shooting that happens while arresting Chinese gangsters. On Christmas Eve day he's handed a subpoena and gets in a small snit with his wife Cat (Erika Eleniak, UNDER SIEGE, an episode of Hunter and a Wet 'n Wild video). At night he tries to visit her at her work, a jewelry store in Chicago Place Mall, to give her flowers and apologize.
BUT! He sees the supposedly-retired thief Jimmy Scalzetti (Eric Roberts, CHRISTMAS IN COMPTON, SO THIS IS CHRISTMAS, ALL AMERICAN CHRISTMAS CAROL, A HUSBAND FOR CHRISTMAS, SANTA'S BOOT CAMP) strolling in looking all tough and intent on something and clearly not there to shop for holiday gifts or trenchcoats, which they are stocked up on. He follows them into an employees only hallway and sees that they're there to rob the place. (read the rest of this shit…)
VERN has been reviewing movies since 1999 and is the author of the books SEAGALOGY: A STUDY OF THE ASS-KICKING FILMS OF STEVEN SEAGAL, YIPPEE KI-YAY MOVIEGOER!: WRITINGS ON BRUCE WILLIS, BADASS CINEMA AND OTHER IMPORTANT TOPICS and NIKETOWN: A NOVEL. His horror-action novel WORM ON A HOOK will arrive later this year.