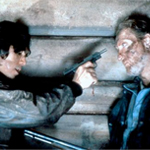 Right after Kathryn Bigelow and Eric Red wrote NEAR DARK for her to direct, they wrote UNDERTOW for him. Her vampire movie got off the ground first, and it was almost a decade later when his weird thriller about three weirdos out in the woods during a hurricane became a Showtime movie.
It's not supernatural, and maybe not even horror, but the mood somehow does remind me of NEAR DARK. Lou Diamond Phillips (RENEGADES) plays Jack (last name Ketchum, apparently!), who's introduced in his car, drifting to the next town after – as he explains in voiceover narration – falling for a sheriff's daughter. Too dangerous. But before he can find a new place to stay he drives his truck off the road into a forest and wakes up the captive of a paranoid old redneck named Lyle (Charles Dance, LAST ACTION HERO) and his timid wife Willie (Mia Sara, TIMECOP), who I assumed at first was his daughter. They live in an isolated home in some North Carolina woods that's somewhere between a hermit's shack and a luxury resort lodge. It looks cold and some of it is built out of rusty car doors, but it's huge, with various buildings and facilities. (read the rest of this shit…)
VERN has a new action-horror novel out called WORM ON A HOOK! He has been reviewing movies since 1999 and is the author of the film criticism books Seagalogy: A Study of the Ass-Kicking Films of Steven Seagal and Yippee Ki-Yay Moviegoer!: Writings on Bruce Willis, Badass Cinema and Other Important Topics as well as the crime novel Niketown.