Cohen & Tate. Sounds like a buddy movie, huh? Cohen. Tate. Just a couple guys goin around together, their last names eventually linked together with and to form a team. Ol' C & T. Co and Ta. Some mismatched dudes maybe, sounds like one's Jewish, maybe the other guy's real Catholic and they always bicker about it. Ha ha, what a great time for everybody.
Well, no. Cohen and Tate are the two mob hitmen who massacre a couple and all the cops protecting them and kidnap their 9 year-old-son so they can bring him to their bosses to be questioned about a shooting he witnessed. Then somebody'll probaly kill him and throw him in a lake somewhere. It's not that funny of a movie, is what I'm getting at. Cohen and Tate hate each other, they hate the kid, the kid hates them, they're all pretty much plotting how and when to kill each other for the whole movie. No jokes except when Tate tells that old one about "what's the last thing that goes through a bug's brain when he hits your windshield?" So there are no laughs.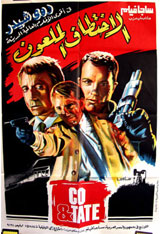 The  movie's from 1988 and the writer/director is Eric Red, that guy that wrote THE HITCHER and NEAR DARK and then in 2000 ran over some people and slit his own throat and survived. Once again we got a movie that seems creepy coming from the same mind that later did that. Tate is a psychopath who talks lustfully about running over different types of animals, and there's a "well, I fucked up, time to commit suicide in front of everybody" moment too. But remember, most people who write dark, nihilistic stories don't end up doing anything fucked up like that. Just this one.
Unrelated to Red's mental state are his abilities as a director, which judging by this movie are pretty poor. It's a pretty good, grim story, it's got a great old school melodramatic score by Bill Conti. But the acting performances are pretty bad and make the whole thing feel cheesy. They have to do alot of reacting to things and the way it's all cut together it comes off feeling really phony and distracting.
Most of the movie just has three characters: professional, trenchcoat and gloves wearing Cohen (Roy Scheider); brash, young, leather jacket wearing maniac Tate (Adam Baldwin); and the brat (Harley Cross). Not surprisingly Scheider does the best, but even he delivers his dialogue bad at first. Adam Baldwin is of course America's #1 independent, unaffiliated Baldwin brother, but I think he plays his dumb lug character too broad here. He could be the dangerous dumb guy of Elmore Leonard stories if he was a little more real. I blame Red for not knowing how to reel him in. He's always chewing gum and self consciously spit polishing his shotgun, kind of seems like a subway mugger in an '80s comedy. You're not sure why poor Cohen got stuck working with this prick.
There's one scene though where he chews a mouthful of matches for some reason. That was kind of funny.
I don't really want to say this, but you know my policy re: telling it like it is. The worst part of the movie is the kid's acting. It's not his fault, he's just a kid. He needs a good director to make him act natural. This character is in a scary situation and he has to be un-kid-like in his response, so that's hard. But he really overreacts with some ridiculous facial expressions when he's supposed to be scared. He even bites his fist like Nic Cage watching the snuff movie in 8MM! Don't tell me the kid came up with fist biting. He's innocent. Some adult told him to do that and thought it looked good. Great job, grownups, way to be in charge.
The kid has been abducted and he figures out they'll probaly kill him after they get whatever information they need, so he tries to be resourceful. He plays the two against each other, makes them paranoid, pushes Tate to snap so the more careful Cohen will have to kill him. He eats their map. He almost escapes a couple times.
So he's a smart, resourceful kid, you'd think that would make him sympathetic. Also, he's clearly the good guy here, no arguing that. But for some reason I hated the little bastard. He looks like a typical Hollywood child actor of the time, with a little bowl cut and jean jacket, but with a Southern accent. And he's trying to push their buttons so he'll suddenly turn bratty and yell "PUSSY!" or "YEAH, SHUT UP MR. TATE!" or sing "Old Macdonald" a hundred times in a row. So I really wasn't rooting for anybody in this movie. At least he doesn't have a bunch of kid-talking-like-an-adult dialogue like they usually did at that time, I should be thankful for that.
I think this movie is a miss, but I still liked things about it. I like the simplicity – they're just trying to deliver this kid to Houston, that's about it. It uses the contained-location type of setup I thought THE HITCHER was going for at first. And Cohen's cold professionalism and exasperation with Tate are a little Parker-esque. To Red's credit there are some clever moments in the script. Sometimes the problems they encounter don't turn out the way they usually do in movies. For example, they get to a road block and have to try to sneak the kid through. Usually a movie would try to draw out the tension and have it seem like the cops are onto them but then at the last moment they let them through. In this one a cop immediately spots the kid's foot sticking out from a blanket. So Cohen and Tate just pull out their guns and make their stand right there. And this is pretty early in the movie.
Later, when a gas station attendant reaches for a phone, Cohen fires two shots: one that hits him between the eyes and another that turns off all the power at the station so maybe it'll look closed and nobody will find the body for a while.
I first heard of this movie years ago when a friend told me it was one of the worst movies ever. I don't think I've heard anybody mention it any time between then and when I reviewed THE HITCHER. But it seemed worth checking out, and I guess it was. Sometimes it gets in a groove, it puts you in that gloomy Eric Red mood, two horrible men who hate each other on the road with a dumb little kid, all of them most likely doomed.