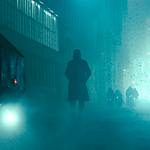 I don't know about you, but for me it's hard to imagine a better sequel to BLADE RUNNER than BLADE RUNNER 2049, especially after seeing Ridley Scott's two interesting but sloppy prequels to ALIEN. Here Scott acts as producer, wisely handing the reins over to Denis Villeneuve (PRISONERS, ENEMY, SICARIO, ARRIVAL), so we get the gorgeous visuals and elliptical philosophizing, but with a stronger narrative and more coherent ideas than Scott prefers these days. It couldn't exist without building on the 1982 film's world and style and feel, of course, so I'm not saying it's better, but to me this detective lead and the mystery he's solving are much more absorbing than the earlier version.
Not that it's trying to be accessible. Doesn't seem too long to me, but it's 2 hours and 43 minutes, or one DAWN OF THE DEAD plus a sitcom including commercials plus 6 more minutes. It's mostly slow and quiet, though Benjamin Wallfisch (IT) and Hans Zimmer (BROKEN ARROW)'s Vangelis-inspired score sometimes builds to a tempest, and a few great action beats spring up among its handfuls of violence. What excites me most, though, are the simple atmospheric touches, like the gentle burble of a pot of garlic boiling on the stove as fugitive replicant Sapper Morton (Dave Bautista, HOUSE OF THE RISING SUN) is ambushed by an intruder sitting quietly in the dark, confronting him calmly.
It's K (Ryan Gosling, ONLY GOD FORGIVES), an LAPD detective who is (opening scene spoiler) himself a "skin job," but working to track down all remaining replicants that aren't programmed to die. His powers of observation on this case lead him to a shocking discovery that "breaks the world" according to his boss Lieutenant Joshi (Robin Wright, BEOWULF), so she assigns him to cover it up. To maintain order. (read the rest of this shit…)
VERN has a new action-horror novel out called WORM ON A HOOK! He has been reviewing movies since 1999 and is the author of the film criticism books Seagalogy: A Study of the Ass-Kicking Films of Steven Seagal and Yippee Ki-Yay Moviegoer!: Writings on Bruce Willis, Badass Cinema and Other Important Topics as well as the crime novel Niketown.