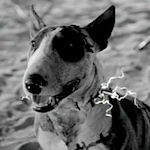 Frankenweenie is a 26-minute long black-and-white Disney live action short that was not quite, as far as I can tell, a Summer of 1985 release. It was made in 1984, planned to play with a re-release of THE JUNGLE BOOK that summer, then production was delayed, moving it to PINOCCHIO in December, but when it received a PG rating they couldn't play it with a G-rated movie, so it got shelved until playing with only the U.K. release of BABY: THE SECRET OF THE LOST LEGEND. I couldn't find proof of a date, but if it was the same as the U.S. then it was in March of '85.
But I decided it was an important backstory to fill in, because it keeps coming up. It was one of the projects then-25-year-old Disney artist Tim Burton switched to after the company didn't use any of his designs for THE BLACK CAULDRON. It was the short they considered releasing with MY SCIENCE PROJECT. And it was what brought Burton to the attention of Paul Reubens to direct a classic Summer of 1985 movie we'll be discussing tomorrow.
It's a simple story. Barret Oliver (D.A.R.Y.L.) plays Victor Frankenstein, a normal suburban kid who enjoys making Super-8 monster movies with his dog Sparky. But one day while playing fetch, Sparky is run over by a car – off screen, in a beautifully crafted sequence of visual storytelling that ends with a baseball rolling to the curb and Victor rising to his feet in shock. (read the rest of this shit…)
VERN has a new action-horror novel out called WORM ON A HOOK! He has been reviewing movies since 1999 and is the author of the film criticism books Seagalogy: A Study of the Ass-Kicking Films of Steven Seagal and Yippee Ki-Yay Moviegoer!: Writings on Bruce Willis, Badass Cinema and Other Important Topics as well as the crime novel Niketown.