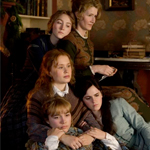 Little women, walking down the street. Little women, bonding with their sisters but also struggling to establish their individual identities in order to find a path in life that brings them happiness
In her joyous new version of LITTLE WOMEN, writer/director Greta Gerwig (LADYBUGS) cleverly acknowledges that the book by Louisa May Alcott may be more appealing to (or more understood by) women than men. When freelance writer Jo (Saoirse Ronan, HANNA) sends stories about her and her sisters to her publisher (Tracy Letts, U.S. MARSHALS) he snidely dismisses them… until his daughters find the manuscript and freak out like it's a new Twilight. The scene is inspired by reality: Alcott and her publisher didn't really believe in her work-in-progress until the publisher's niece read it and loved it.
What I'm saying is not that I, as a male individual, don't get the appeal of this movie. I loved it. But Little Women is a "girl story" I never knew to open myself up to. I had never read or seen it, not even when it had Winona Ryder in it. I only did it this time because I loved Gerwig's first film as a director, LADY BIRD (she didn't direct LADYBUGS, I don't know why I said that a paragraph ago, but it seemed amusing at the time). (read the rest of this shit…)
VERN has a new action-horror novel out called WORM ON A HOOK! He has been reviewing movies since 1999 and is the author of the film criticism books Seagalogy: A Study of the Ass-Kicking Films of Steven Seagal and Yippee Ki-Yay Moviegoer!: Writings on Bruce Willis, Badass Cinema and Other Important Topics as well as the crime novel Niketown.