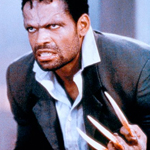 For those of us disappointed that MOONLIGHT, although very good, was not about werewolves, here is a pretty okay wolfman movie to dig up. (You know, like a dog would dig up a bone or something.) It stars Mario Van Peebles, it's directed by Anthony Hickox right after WARLOCK: THE ARMAGEDDON, and it's written by Richard Christian Matheson (THREE O'CLOCK HIGH) & Michael Reaves (Super Friends).
I like that it combines werewolves with a straight up cop movie. It's hard to classify as horror exactly, because the lycanthropy is treated more like super powers than monsters. In fact, they have Wolverine style claws and Magneto type helmets. But they are werewolves in a legit action movie complete with cliches about cops and their partners and one of them saying "I'm too old for this" and everything.
Even better, this came out the year America stole John Woo, and the style seems pretty influenced by him. Lots of leaping through the air to fire guns, slow motion, intense, lingering closeups. For the opening set piece Hickox revisits his HELLRAISER III: HELL ON EARTH idea of terror in a dance club full of big spooky body part sculptures, but with bullets and debris and people flying everywhere, usually with LAPD detective Max Dire (Van Peebles) dropping from above or jumping in the air or laying on the floor while shooting two guns. (read the rest of this shit…)
VERN has been reviewing movies since 1999 and is the author of the books SEAGALOGY: A STUDY OF THE ASS-KICKING FILMS OF STEVEN SEAGAL, YIPPEE KI-YAY MOVIEGOER!: WRITINGS ON BRUCE WILLIS, BADASS CINEMA AND OTHER IMPORTANT TOPICS and NIKETOWN: A NOVEL. His horror-action novel WORM ON A HOOK will arrive later this year.