If there's a more stylish '80s teen movie than 3 O'CLOCK HIGH I don't know what it is. This one's shot like RAISING ARIZONA or an EVIL DEAD with all kinds of cartoonish zooms, energetic cuts and dramatic angles. In fact the internet tells me Barry Sonnenfeld was the cinematographer, although I only noticed him credited as "special lighting consultant," which seemed kind of weird. Anyway it makes it constantly interesting to look at and sort of shows you the world through the eyes of the characters. To us a real high school would just look like a building but to them it's real dramatic, some Sam Raimi and some Sergio Leone.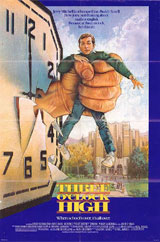 The story is very simple, it's just about one day in the life of Jerry Mitchell (Casey Siemaszko), a middlingly nerdy high school schmo who runs the student store. There's a new kid starting school today named Buddy Revell (Richard Tyson) whose reputation as a psycho precedes him – everyone is telling stories about all the fights he's been in the, schools he's been kicked out of, the authority figures he's pulled knives on, the weapons he uses. Poor Jerry gets assigned to write a profile on Buddy for the school newspaper, but Buddy is not okay with this because "I don't like people to know about me." A terrified Jerry backs down and says he won't do the story, and reassuringly pats Buddy on the shoulder… forgetting the legend that Buddy is a "touch freak" who will kill you if you touch him. Now Buddy says he's gonna fight Jerry after school, and there's no talking him out of it.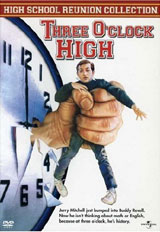 (Let me interrupt for a second to compare the DVD cover at right to the movie poster above. The DVD is from the "HIGH SCHOOL REUNION COLLECTION," whatever the hell that is. It's not "The High School Reunion Edition" because that would require having extras of some kind. Anyway, I thought it was kind of funny that they actually had somebody repaint the edges of the clock to make it round. They must have some study showing that consumers hate octagons.)
Of course, Buddy is no ordinary teen. He's not even an ordinary adult walking through a high school. He's a fucking monster. He looks closer to a pro-wrestler than a teen. He's also mysterious, with a broody James Dean squint. Part of what makes the movie fun is that he has a little depth to him, he's not your typical bad kid. You expect him to be a neanderthal, but the few times he talks he's surprisingly eloquent. And it turns out he's good at math too. It just happens that he likes to lift other kids up by their necks and smash them through things. It's something he's good at, you know. He's an asshole for going after Jerry, but I kind of liked him anyway. I hoped they'd end up friends.
Jerry tries everything he can think of to weasel out of this fight, but he just keeps making things worse, adding new problems. He goes from anonymous nobody pen salesman to #1 on the watch list for the principal, the head of security (Mitch Pileggi) and even a police detective (Philip Baker Hall). So as the minutes tick away to his personal armageddon he's also juggling all this other shit. Not a good day at school.
The reality of this world is so heightened that it's exciting to watch him try to find clean pants to wear to school. When he's checking out a girl while driving it leads to a spectacular spin and near crash, but his little sister and friend in the car don't even change expressions. When he tries to ditch school it leads to a thrilling foot chase straight out of POINT BREAK. And the fight at the end is great too. I'll half spoil the ending: he not only gets the girl, but also the second girl, plus the adult woman. The nerd gets three girls total. That's the kind of movie this is.
But I guess that shouldn't be a surprise, we should know this is no ordinary high school movie when we realize that the music is by Tangerine Dream! It's not as dramatic as what they did for SORCERER but still, it's pretty cool for a teen comedy. The director is Phil Joanou (GRIDIRON GANG), the writers are Richard Christian Matheson (yes, the son of the author of I Am Legend) and Thomas E. Szollosi. All of them are working at the top of their game I think because this is a brilliantly shot version of a clever script. A simple thing made into something much better than you'd think it ever could be.
Thanks to Clubside for recommending this one. Also for putting this websight together. Two good deeds right there.
This entry was posted on Wednesday, September 30th, 2009 at 11:12 pm and is filed under
Comedy/Laffs
,
Reviews
. You can follow any responses to this entry through the
RSS 2.0
feed. You can skip to the end and leave a response. Pinging is currently not allowed.