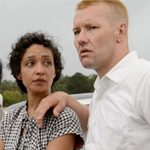 LOVING is a pretty simple true story about something that should be pretty simple: two people are in love and having a baby and decide to get married and build a life together. Should be up to them to decide if that's a good idea, you would think, but the trouble is that Richard Loving (Joel Edgerton, WARRIOR) is white and Mildred Jeter (Ruth Negga, THE SAMARITAN, WARCRAFT) is black, and in Virginia in 1958 it was illegal for them to get married.
Like same sex couples before we got marriage equality a few years back, they had to go somewhere else to get married (Washington DC), but back at home the cops kick in their door one night and arrest them. Richard gets bailed out but they won't let him bail out Mildred. Wait to see the judge on Monday, they say, as if that's a reasonable thing to ask a man whose pregnant wife is currently locked up in a cold cell for ludicrous reasons. They threaten to arrest him if he keeps trying to get her released.
The judge would make the Lovings do a year for this – for being married! – but they plea bargain. Instead they have to leave the state (their home, their property, their family, their jobs) and not come back together for 25 years. So, against their will, they go to raise their kid (soon kids, plural) in the city.
(Virginia: 13 electoral votes. DC: 3 votes starting in 1961.) (read the rest of this shit…)