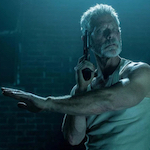 Your mileage may vary, but I loved DON'T BREATHE, director Fede Alvarez's followup to his EVIL DEAD remake, once again produced by Sam Raimi. It was a hit at the time, and they talked about a sequel, but Alvarez was getting bigger offers, like THE GIRL IN THE SPIDER'S WEB. Which I also liked, but it didn't really catch on. Now five years have passed, and I haven't noticed DON'T BREATHE turning into a big thing, but we finally got that sequel, written and produced by Alvarez and directed by his usual co-writer Rodo Sayagues, in his directing debut. Hey, I'll take it!
Stephen Lang (MANHUNTER, HOSTILES) returns as "The Blind Man," or Norman Nordstrom as he is apparently named. He's a Gulf War vet who lives in a rickety house in a largely abandoned area of Detroit with a rottweiler named Shadow and a young girl named Phoenix (Madelyn Grace, 2 episodes of Z-Nation). He home schools her, trains her in survival tactics, and only rarely allows her to go into town with his Army Ranger friend Hernandez (Stephanie Arcila, Penny Dreadful: City of Angels).
Phoenix calls him Dad, and we have to wonder what's up here because we've seen part 1. In that one he was a victim of home invaders and went uncomfortably far in exacting his vengeance on them, then he was revealed to (SPOILER FOR THE FUCKED UP TWIST IN PART 1) have the woman who killed his daughter in a hit-and-run accident imprisoned in his basement, pregnant with a "replacement." So there are many reasons for concern here.
Part 1 was playful in the way it had a group of scumbags doing an unconscionable thing as the protagonists, gave some of them better reasons for their sins and some of them reasons to be rooted against. Part 2 makes it feel less scummy by giving us Phoenix, a complete innocent, to root for. Don't worry, there's not some twist where she turns out to be a Nazi or something. She's a nice girl caught in the war between the psycho villain of part 1 and a band of dishonorably discharged combat veterans turned active members of the Detroit creep community. They first meet Phoenix in a filthy public restroom, follow her home home and break into the house at night to kidnap her, unaware of the trouble this will bring them. One guy called Duke (Rocci Williams, ANGEL HAS FALLEN, WRATH OF MAN) looks like Chris Hemsworth in a leather vest with a skull on the back. Another one, Jim Bob (Adam Young, 6 episodes of EastEnders), is a weaselly snake with pretty much a Boz cut (stripes and everything). They have the ideal LAST HOUSE ON THE LEFT meets DEATH SENTENCE sliminess for someone you want to see get horribly fucked up by improvised weapons while hunting a little girl.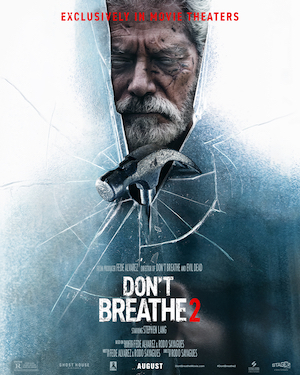 I don't think Sayagues ever reaches Alvarez's DePalma-in-Hell suspense sequence mastery, but he does an admirable job of at least giving it a shot, particularly in a sequence following Phoenix as she sneaks beneath different furniture and from room to room, listening to footsteps on the creaky wooden floors to evade two different pursuers.
This is a world of desperate people – survivors of wars, victims of economic collapse, people willing to hurt others (selling meth, stealing, killing) for themselves or their loved ones. In the first film our protagonist Rocky stole from the Blind Man because she wanted to get her abused sister to the safety and promise of sunny California. For Phoenix the dream future is not escaping to some paradise, but a homeless shelter where she would get to play with other children. She spotted it from the playground, a place of escape that's not in much better shape than the rathole apartments and dusty basements most of the movie takes place in.
At least one character in this crumbling hellscape has some amount of honor; others fight for clearly selfish emotional reasons they believe are just, but must know deep down don't stand up to scrutiny. The Blind Man is mirrored by the other lead villain, Raylan, who I did not recognize as Brendan Sexton III (WELCOME TO THE DOLLHOUSE, BOYS DON'T CRY, SEVEN PSYCHOPATHS, THREE BILLBOARDS). He was always so good as a young actor and he's still great now that he looks like Thomas Jane. He's a good villain – so gross and creepy, and then since this is a DON'T BREATHE movie you find out some information that makes the situation more complicated than you realized.
There's a podcast called The Boo Crew, I assume it must come from a radio broadcast, because the whole vibe is about ten times too Morning Zoo Crew for me, but credit where credit is due, they did a recent episode with Alvarez and Sayagues, and Alvarez had a good way of describing this aspect of the movies:
"It's really us always fucking with the audience, trying to take you from one side to another, and show you that life is complex, and maybe hopefully make you feel that sometimes when you judge someone you might not have all the information to really judge that person, and sometimes when you love someone you might not know some dirty secret that motherfucker has, and you're loving the wrong person."
The Blind Man and Raylan are both veterans, both owners of vicious attack dogs, both fathers to Phoenix in troubling ways, both (SPOILERS IN THIS PARAGRAPH) blind by the end. But psychotic blind man #1 is more honorable in the specific matter of respect for animals. He weeps at the death of Shadow, and then at the possibility of having to shoot Raylan's dog to defend himself. Raylan sets the house on fire even after Raul (Christian Zagia) reminds him his own dog is still inside, a violation that starts to turn Raul against him. The Blind Man saves Raylan's dog from the fire, and is rewarded with his friendship (and a way to find Raylan).
(By the way, I didn't realize Raul was the fence who told part 1's thieves about the blind man with the cash settlement ripe for stealing. I like that he connects these two groups of doomed criminals.)
I love seeing Lang, always such a dependable character actor, just pouring himself into the role of… the psycho killer in a kinda disreputable horror sequel. There's obviously a huge physical component to the performance – he wears contacts that make him unable to see, and has the physique and deadly movements of this aging Navy SEAL who's lost his mind. But also there's a really layered character – the fragile, sad voice, the desperation of the controlling pseudo-father who knows he's a monster, but tries to hold on to the phony life he's built through illicit means. There are moments when Hernandez (who definitely seems unaware of what he's been up to) tries to talk him into giving Phoenix more freedom, and actually gets through to him.
(It's not jokey, but kinda funny when Hernandez says he thinks he's "a bad man who has done bad things" because of his experiences in the war. Lady, you have no idea.)
I know some people didn't like that the trailer seemed to treat the Blind Man as an action hero, despite his activities in the first film. I think that would actually be a pretty cool statement about action heroes, but of course that's not what this is. Still, I imagine some people will be bothered that the movie treats him as a tragic villain, a broken person worthy of pity, if not sympathy, once he's admitted his sins. I think it's a surprisingly humane approach for a horror movie, especially one that wallows in so much gloom. But I don't think it's asking us to forgive him or consider him redeemed. That (SPOILER) Phoenix seems to care for him after knowing the truth is part of her own tragedy, it doesn't make him a good guy. If called upon for a part 3 I am confident he will find new and innovative ways to be way out of line.