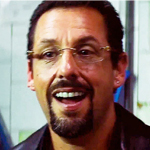 UNCUT GEMS is the latest and highest profile movie from writer/director brothers Josh and Benny Safdie. I recently caught up with their previous movie GOOD TIME and I loved it, so I would've been excited for this even without the hype.
It's the story of Howard Ratner (Adam Sandler, CONEHEADS), a New York jeweler who specializes in making ridiculous necklaces for rich musicians and athletes. His claim to fame is a blinged out Furby medallion he once made for some rapper to wear in a video. His shop is a tiny room behind a security door and he depends on people with connections like affiliate Demany (LaKeith Stanfield, THE GIRL IN THE SPIDER'S WEB) and employee/mistress Julia (Julia Fox) to hook him up with VIP clients. Julia is using her hotness and her side career as a photographer to hook that singer The Weeknd, and Demany brings in Boston Celtics power forward Kevin Garnett.
The trouble (at least the main trouble) begins when Howie tries to impress KG with a big chunk of rock full of opals that he just got sent to him from Ethiopia. It's scheduled to be auctioned in a few days but he agrees to let KG borrow it as a good luck charm during a game. See, Howie takes a championship ring as collateral and then temporarily pawns it to get some cash to use for a bet to get out from under another bet. He's already in deep with his loan shark brother-in-law Arno (Eric Bogosian, UNDER SIEGE 2: DARK TERRITORY) and I could be wrong but it seems to me there's a possibility that this new scheme won't turn out the way he hopes.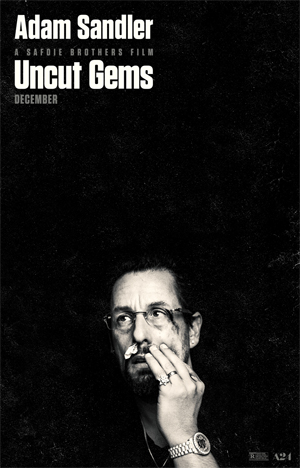 By the way, things aren't going great with his wife Dinah (Broadway star Idina Menzel) either. She knows some of the reasons he's a piece of shit, but they haven't told the kids they're getting a divorce, so a couple of the way too many plates he's trying to juggle are family related. Sandler is a master of the dumbshit half smile pretending to be oblivious to his family's glares of disgust as he disappoints them again and again. And this poor woman has to do shit like sit in the car with the kids pretending to believe his lies about why he has to stop off at an apartment that he got for the girlfriend it never would occur to them he'd have.
I liked this alot, but I imagine if you're not on its wavelength it must be one of the most grating movies you'll ever see, because it's designed to be a stressful ordeal. So many scenes are a bunch of people yelling over each other, often times crammed into a small room, almost always with frantic synth music by Daniel Lopatin a.k.a. Oneohtrix Point Never threatening to drown them out. Also it's kind of a hectic handheld shooting style, though it looks beautiful because it's shot on film by fuckin Darius Khondji (DELICATESSEN, THE CITY OF LOST CHILDREN, SE7EN, STEALING BEAUTY, AMOUR, OKJA).
And it's not exactly a crowdpleaser of a protagonist. When the movie starts he's already in over his head from the unspecified fuckup, followed by dudes he ripped off, threatened by enforcers. He's fucked up his family life, his mistress is way out of his league and nicer to him than he deserves, but he's willing to sell her out and call her "trash" to his wife. What little charm he has is clearly a veneer of bullshit barely hiding his constant desperation. His daily activities are centered around obsessions I can't relate to: the novelty jewelry, detailed NBA opinions, high stakes gambling. The climax is a long scene of him excitedly watching a basketball game and narrating it to three sweaty scary criminals glowering at him from behind the bullet proof glass he trapped them in.
I noted in my review that GOOD TIME seemed to have a few loose themes about racism – I liked that, but I think UNCUT GEMS is more successful with such lofty ambitions. The movie opens in Ethiopia to show us the miserable existence of the miners (one gets carried off with a gory compound fracture) who dig up the titular chunk of rock that ends up on Howie's desk. All these assholes fighting over this valuable thing that was another backbreaking day on the job for some Ethiopians they don't think much about. I love when Garnett shames Howard for lowballing the people he bought it from.
After that larger-context-establishing prologue (which my friend Matt Lynch swore was an homage to THE EXORCIST until the Safdies said on Twitter "No. But Friedkin is a hero") the camera zooms into the gem for a trippy light show that at some point transitions to the inside of Howard getting a colonoscopy. The protagonist is introduced from the inside out! You assume that means he's about to find out he has colon cancer, to give motive for his risky betting spree, but the polyp is quickly determined to be benign. No, I guess they just wanted to show that he's up his own ass.
There are other bits like this that I think of as tension red herrings. Howie wants to surprise Julia at the apartment, so he goes there just before she does, calls and says he's headed over. On the phone she sounds nervous that he's almost there. He watches from the closet as she comes in – there is no movie ever made where this is not prelude to a reveal that she's cheating on him. Except this one. It turns out she's in a hurry because she wants to strip down and be sexy for him when he comes in the door. It's actually very sweet.
Another one is when KG visits the shop and Howie keeps saying not to lean on the counter, but KG doesn't seem to hear him. When it finally gives in and glass explodes everywhere I thought KG would throw a fit. Instead he takes it as a sign that he needs to buy this gem.
And what about the big parlay (I don't know what the fuck that is) Howie makes at the climax? He scribbles it, in pencil I believe, on a scrap of paper. Julia doesn't seem very confident that she can read or understand it, and has trouble conveying it to the casino employee. There's every possible signal that she's gonna put all the money on the wrong bet and he's gonna think he won but he really didn't. Except that's not what happens.
The whole thing is an inevitable circling down the drain, yet it keeps surprising. Like, ENDING SPOILER THIS PARAGRAPH, a giant risky bet in a movie about gambling addiction has to be a loser, right? It has to seem touchy, then seem completely lost, then come back, and be an amazing come-from-behind victory— except be lost at the last second. You can't win something like that unless you deserve it, and no fucking way Howie deserves it. He has to learn a lesson. Except he doesn't. He wins the bet. But bets aren't everything – maybe they're not anything. He loses another way.
As you've heard or guessed by now, Sandler is very good in this. But that's more a case of working with great filmmakers than transforming into something brand new. He's less cartoonish than in PUNCH DRUNK LOVE probly, but he gets to yell in his funny voice, and there's plenty of humor. The difference is that it's a serious cast around him, and it's stylish filmmaking, as opposed to the standard factory product from his old roommates. And it's in a context that's much more grounded and dry and uncomfortable than, you know, CLICK or whatever. (Actually I haven't seen CLICK. Let me know if CLICK is like this.)
My point is it would be cool if the next Safdies movie starred Rob Schneider or David Spade. Honestly they might be able to pull it off. Or maybe Sandler has an inherent likability that helps us not totally hate this shitbag character – I don't think that's true of those other two. If Chris Farley had lived he could definitely do it.
As in GOOD TIME, the familiar actors like Sandler, Judd Hirsch (SERPICO, INDEPENDENCE DAY) and Bogosian blend in naturally with the non-professionals who populate the Safdeiverse. That includes a few celebrities playing themselves, and I like that they're portrayed in a negative but not broadly comedic light. Garnett is willing to play a silly amount of superstition and The Weeknd reveals himself as a bit of a sleaze.
Julia is the most likable main character in the movie (though on much shakier moral ground than Dinah), and it's a strong first acting performance for Fox, an art photographer, fashion designer and Playboy model. The guys playing mob enforcers look so authentic I assumed they had to be bail bondsmen the Safdies knew from GOOD TIME, but I guess they were just some tough guys spotted on the street. Similar deal for some of the supporting oddballs. Mitchell and Stewart Wenig, the guys who keep showing up claiming Howie screwed them, got in because the Safdies saw one of them in a diner years ago. That's also how they found Wayne Diamond, a fashion designer who has a memorable role as a rich gambler credited as "High Roller." You look at his long gray hair, Elvis shades and tan and you know instinctively this isn't a shtick, this is an actual guy. There's that cliche of the sleazy dudes approaching pretty girls and asking if they want to be in a movie – I guess it might be legit if they're the Safdies and you're an old weirdo.
"High Roller" comes in when Julia takes Howie's money to The Mohegan Sun Casino. I didn't realize that was in Connecticut – not having ever been in a helicopter, it didn't occur to me that it would make no sense for them to be flying all the way to Las Vegas. But I still thought that was where it was when I was there with some friends last weekend. Gambling doesn't appeal to me, so I only lost a couple bucks on a slot called Panda Magic and some quarters on the pinball machines LAST ACTION HERO, JOHNNY MNEMONIC, TERMINATOR 2, AVATAR, DEMOLITION MAN and Royal Rumble. Might've broke the bank if their NIGHTMARE ON ELM STREET machine was working. Oh, and I had a pretty good run on a giant game of Pac-Man, so I understand mojo. I get this movie.
Anyway, every time a helicopter flew over (from Grand Canyon tours) I thought "Is that the BLADE?" I like that kind of tiny character moment – what does it say about this fuckin guy that he can tell his girlfriend "I booked you on a BLADE" – a charter helicopter to a casino – and she's not surprised or confused?
It's easy to imagine a version of the Safdies that are interested in all this same stuff but are totally humorless about it. Luckily that's not the Safdies of this dimension. These are the ones who have an out-of-nowhere scene where Howie tries to get a neighbor to let his son take a shit in his bathroom and the neighbor is a completely unexpected famous person playing himself as a guy who does not want to let Howie's son take a shit in his bathroom. I won't say who it is but SPOILER HINT he's in DIE HARD 2.
On one viewing, if forced to choose, I might have liked GOOD TIME just a tiny bit better than UNCUT GEMS. For me, Pattinson's character Connie is a more accessible type of dirtbag loser protagonist than Howie. Neither of them is a guy I want to know, but I feel like I understand Connie's failure more. He's an idiot hurting his family by trying to care for them in a stupid way, which seems marginally more admirable than pretending to love his family but actually treating them like shit. And the hole and the side holes Connie digs himself into are crazier than just scheming to make big basketball bets. There was a Hogan Family episode about sports gambling, but not one about busting your brother out of a home to rob a bank and then trying to sell LSD to pay his bail. So GOOD TIME is more novel.
But who cares? Both are intense, unique cinematic experiences from the modern masters of gritty urban cringe thrills. Make us some more, boys.
P.S. Another good sad gambling movie is HEAT starring Burt Reynolds, later remade as WILD CARD starring Jason Statham.