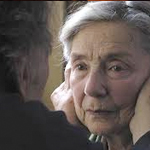 Hollywood is always trying to shove these movies down our throats that are just about a bunch of Hollywood bullshit, like a kid and his talking horse use teleportation to win the Super Bowl, or there's a serial killer holding a fighting tournament in the sewers to prove his love for a girl, or whatever all these popular movies are now, I would never watch them so I wouldn't know. But it's all super heroes and comics books and nothing for the rest of us. What about the grown ups who don't want to see IRON SPIDER RISES PART 32 or STAR WARS IN THE DARKNESS, we just want to see a nice movie about a French couple in their 80s being miserable in their apartment as the wife becomes increasingly mentally and physically debilitated and the husband has to feed and bathe her and they're both completely tormented by pain and boredom and we watch in long, static shots as they cry and look off into the distance and agonizingly wait for the sweet comfort of death? No wonder there's all this piracy and video games, if Hollywood won't deliver what the people really want. For what we want we gotta go to Michael Haneke.

Okay, I shouldn't be so flippant. I'm making fun of people with that attitude, but not making the reverse argument. I don't want to imply that there shouldn't be room for this, or that it's boring. AMOUR is a well-made and engrossing movie. I don't mind it being nominated for best picture. It's weird that enough people would vote for this to get in and not THE MASTER, but I'm not judging. Emmanuelle Riva (RISKY BUSINESS [1967]) and Jean-Louis Trintignant (AVATAR [1964]) play the couple, who when we first see them together are still very mobile and with it, they go to a concert, come home, have a nice conversation, like married-people-date-night. But later Ann has some sort of attack, she's upright but unresponsive, and they find out about a problem with her brain, she needs surgery. Haneke makes a good choice to skip over all the medical stuff. There are no hospital scenes, we only see their life at home in their apartment as her condition gets worse and worse.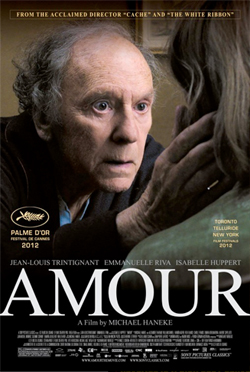 At first she tries to be positive, reads books, doesn't want him to wait on her hand and foot because that would be "absurd and oppressive." They have a few good conversations still, despite the looming spectre of horribleness. But it's not long before she's paralyzed and her main activity in life is wanting to die. First she can barely speak the words she wants to, then her brain starts to go and she mumbles only gibberish, startling her visiting daughter (Isabelle Huppert). We gotta see the poor lady's humiliation and misery as she wets herself, has to be fed slop, and tries to kill herself the only way she possibly could: by spitting out any water he squirts in her mouth.
Of course it's a moving portrait and the two leads give outstanding, heartbreaking performances. Riva is winning awards and getting all the attention, but Trintignant is equally great. And it's never schmaltzy at all. In fact it's so minimalistic it becomes almost comical at times. There's a scene near the end that's very sweet and meaningful, it has one of the best moments in the movie, but it still makes me laugh that it's like a 5 minute uninterrupted shot of an old man walking around in circles trying over and over again to drop a blanket on a bird that got in his window. Then in the next scene we watch him write a letter about how he was just trying to throw a blanket on a bird. Then the next scene is a flashback of him trying to drop the blanket on the bird. Okay, that's not true, there's not a flashback, but everything else I said was true. This scene was loosely adapted from the famous Family Circus Jeffy-Cries-Because-a-Bird-Flew-in-the-House series of April 25-30, 1994.
I have a limited knowledge of Haneke, because I've only seen FUNNY GAMES (the first version) and now this. I know CACHE is supposed to be great. For a long time he's been known for kinda dark, fucked up movies, but he's gone into the respectability realm with WHITE RIBBON and this. AMOUR has Oscar nominations for best picture, best director, best original screenplay, best foreign film and best actress. It has already won BAFTAs for best film not in the English language and best actress, plus the informal Vern award for biggest reason Seth McFarlane is a smarmy asshole douchebag for when McFarlane made a Hitler joke while announcing its Oscar nominations. When I went to see it on a Saturday afternoon the theater was packed with all the white-haired people who would make an effort to see an Oscar-nominated movie about older folks, which is crazy. I think this is the absolute last movie anybody should watch when they're getting up there in years. I'd sooner recommend THE DEVIL'S REJECTS. Give me GRAN TORINO.
Now I think I'm gonna lose everybody here, because I tried reading other people's thoughts on the movie and kept seeing words like "tender" and "humane," but to me it seems like it's mostly the opposite. I think despite all the recognition and the acceptable subject matter this movie is exactly like FUNNY GAMES: a well-crafted, smartly-structured movie made with admirable stylistic restraint that feels like it was made by a cruel asshole whose primary goal is to punish people for watching his movie. If Haneke's looking for something tender it's so he knows where to stick the knife in.
I guess I still hold a grudge against him for FUNNY GAMES. It's such an intense thriller and then it tells us how we're a bunch of sickos for watching movies like this and we should all be ashamed of ourselves. If he still stands by that (which I'm sure he does, having done a shot-for-shot English-language remake 5 years ago for the sole purpose of delivering his condescending lecture to more Americans) then AMOUR really shows his hypocrisy. Tell me, Professor Haneke, why is it sick for us to want to watch a family triumph over the evil that invades their home, but admirable to watch long, uninterrupted shots of this poor lady having to be spoon fed slop when she would rather starve to death? In fact, AMOUR is more like a torture porn than a slasher. You can't root for her to get away.
I had to really think on it to come up with a possible reason to make this movie. It's not like it's trying to bring awareness to a problem people don't know about, and I don't think it's trying to preach about euthanasia. I decided eventually that maybe it's about dying with dignity, that people have the right to pass away at home and not some dreary hospice, and that even then maybe it's wrong to let your loved ones continue to hang on when they don't want to. But I don't know, man. Even if that's what it's about, it feels to me like Haneke's also trying to rub our nose in shit. Hey, you there. If you're lucky enough not to bite it before your time you're probly gonna have to wait until after your time. You'll have hell to pay when you get old. And hey, how 'bout a sample? Why not experience some of that pain now? What else do you have to do this afternoon? Nothing of value, knowing you.
Isn't it kind of like a cancer movie that doesn't really have a plot, doesn't have an attempt to overcome adversity or to value precious life or say goodbyes… just a person slowly, horribly dying, while their loved ones stand by helplessly? I think it's pretty much that.
Haneke's FUCK YOU style of filmmaking begins with the cynical opening smash cut from the discovery of decomposing bodies to the title, LOVE, and ends with the music-less end credits. He could have easily used any of the classical piano pieces mentioned throughout the movie, but he chose silence because fuck you, American dogs. You do not deserve the comfort of music. Sit there or leave like cowards. You sicken me.
The opening scene, at the concert, has an uncomfortably long shot of the audience sitting and waiting for the show to start. There must be 100 faces on screen and they're all very clear because of the digital photography. These people are situated to watch something, they seem completely unaware of you watching them, and it makes you feel very self-conscious. I don't know what the point is, but I think that's how he wants us to feel. Don't be comfortable. The movie is watching you back.
Other than that opening I believe the entire thing takes place inside their apartment, and is photographed in long, static shots with no artifice. It's the right choice for the movie but it's another joke on the audience that the cinematographer is Darius Khondji (CITY OF LOST CHILDREN, SEVEN, EVITA). It's like hiring a great chef to pour you a bowl of cereal. Cereal is the right choice 'cause you're gonna be late for work otherwise, but come on, why'd you hire the chef? You gotta be fucking with us, right?
Alot of times when actors or directors get alot of acclaim then Hollywood tries to snatch them up for a comic book movie. So I'm thinking Riva for Wonder Woman and Haneke for Spider-man 3. He would be so outraged if they asked him, I would love it.
In conclusion, when the moon hits your eye like a big pizza pie, that's most definitely not AMOUR.