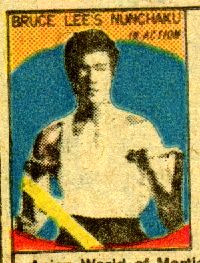 Okay, how should I explain this? Here goes.
I have a new bi-weekly column called Profiles in Bad-Ass on the freshly launched websight REBELLER. The first one is up and it's trying to address something that I'm sure you know is important to me: that everybody knows who Bruce Lee is but many haven't experienced the joy of actually sitting down and watching his movies.
In future installments I plan to provide similar overviews of the work of icons from different eras of badass cinema, the types of things I've written about extensively here, now in a more generalized and concise format to spread the good word to other corners.
I guess it won't be the audience I thought, because I didn't realize it would be behind a paywall. You have to sign up and then you can get 3 free articles a month, or pay $20.20 for a year of access to everything. I feel a little weird about that but it makes sense – we've seen that the high profile websights that actually pay their writers can't sustain on popup ads. Also, I once had a somewhat similar column in a print magazine called Clint, and somebody would've had to get a much more expensive subscription to read all of those.
Except it is different because this is the new venture from Cinestate, known for producing BONE TOMAHAWK, BRAWL IN CELL BLOCK 99, DRAGGED ACROSS CONCRETE and THE STANDOFF AT SPARROW CREEK. They also own Fangoria, which they've done a great job of reviving, and they consider Rebeller to be Fangoria for action, westerns and crime movies. They're trying to live up to that billing with coups like Tarantino's current editor Fred Raskin writing about the brilliance of his late predecessor Sally Menke, a column by god damn Fred "The Hammer" Williamson, and a piece where Cinestate owner Dallas Sonnier recounts his days producing Stone Cold Steve Austin movies. (I think I'll sign up just to read that.) And their movie label of the same name will make director-driven exploitation for theatrical distribution.
Obviously that stuff appeals to me greatly. But if you've read my DRAGGED ACROSS CONCRETE review (as editor Sonny Bunch had) you know I worry about traces of a winky-winky, nudgy-nudgy, don't-ask-don't-tell approach to racists in some of their work and publicity. And now more than ever I don't think we can be flexible on this shit.
So I never agonized over an offer for a freelance gig like I did this one, and I'm still nervous about it. I think Sonny thought I was joking when, having learned the name was Rebeller, I checked to make sure the logo didn't have some kind of reference to the Confederate flag in it. But he's been understanding about my concerns and made assurances to me about the diversity of writers without me having to ask.
The Ringer did a good article about Cinestate, Rebeller and Sonnier. It has the headline "Does the Movie Industry Need an Unsafe Space?". I can't relate at all to grown adults who worry about the dangers of "safes spaces" or "wokeness," so it's strange to be affiliated with an outlet being lauded as some kind of dick-waving antidote to those terrifying spectres of the P.C. Police State. Luckily I think the article doesn't paint such an embarrassing picture, and I believe they hired me knowing I would want to be a balance to that type of shit.
We'll see what happens, but my goal is to spread the word about the good shit while staying true to myself and my belief that the beauty of The Films of Badass Cinema goes beyond just being reactionary macho bullshit. Wish me luck!
This entry was posted on Friday, December 20th, 2019 at 2:28 pm and is filed under
Blog Post (short for weblog)
. You can follow any responses to this entry through the
RSS 2.0
feed. You can skip to the end and leave a response. Pinging is currently not allowed.