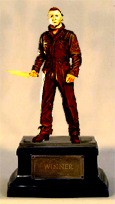 VISITING HOURS is up there with the best slasher movies I've seen. You think you've pretty much exhausted them and then you find out a gem like this that was sitting there all throughout the 1980s, its distinctive VHS box staring at you from the optical illusion eye sockets of its hospital room windows lit in skull formation. I knew that image like I knew my own hands but it never once occurred to me to ask "What is this movie? Should I watch it?" Not until you guys recommended it to me for the hundredth time. So thanks for that.
Some might consider this more suspense thriller than horror. It's different from a HALLOWEEN or a FRIDAY THE 13TH because there's nothing supernatural, there's no mask, we know alot about the killer and he's not a monster or a legend. He's just a crazy weirdo who's slipped through the cracks so far. But I consider it a slasher movie because it has a whole lot of the classic tropes: woman-hating maniac with sexual hangups on a knife rampage, suspenseful stalking sequences, upsetting murders, strong female victims-turned heroes. Carol J. Clover must not've known about this one either or she would've been all over it in Men, Women, and Chain Saws.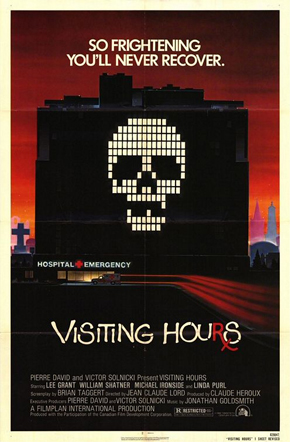 The killer's name is Colt Hawker and he's played by Michael Ironside. He has an apartment, he has neighbors who know his name, he has older women who want his attention but he ignores them. He has a father in a nursing home and some traumatic childhood memories. He has a hobby: writing letters to newspapers, TV stations, judges. He's so proud of his letters he has copies framed all over his walls. The one you get a look at begins "You talk about civil rights, what about my civil rights?" A young woman who sees the letters says he's sticking it to "the blacks, the Jews, the gays."
So we get this glimpse into his home life and motivation, and in that sense it's like MANIAC or DON'T GO ON THE HOUSE, except he's not the lead character. In fact when we first see him he does seem like a monster, grunting and attacking savagely, wearing women's jewelry all over himself, a total freak (see thumbnail above). It's a Leatherface type WHAT THE FUCK IS THIS!? adrenaline rush moment.
There are two heroines. The first is Lee Grant as Deborah Ballin, a TV anchor who editorializes about a high profile domestic violence/self defense shooting trial, then comes home to find Colt in her apartment. She survives the attack but ends up in the hospital where only she believes that he's gonna come after her again. The nurse taking care of her when she wakes up becomes very protective of her. Her name is Sheila Munroe, played by Linda Purl, and she becomes the lead heroine.
Sheila stays late to look after Deborah – being a good nurse puts her in the wrong place at the wrong time. Luckily she's no pushover. Don't let the white hat fool you, she can dig her ergonomic work shoe heels in when she needs to.
The script is by Brian Taggert, who did a bunch of episodes of 'V', POLTERGEIST III and OMEN IV: THE AWAKENING. The director, Jean-Claude Lord still to this day directs movies and TV shows, including EDDIE AND THE CRUISERS II: EDDIE LIVES!. But VISITING HOURS is the last one where he also was the editor. I wonder if that was his secret? I don't know man, you wouldn't think so from those filmographies, but at least on this movie those guys were on fire.
The filmatism is strong, influenced by HALLOWEEN I think. Very deliberate camera movements and placements, POV shots and almost-POV-shots to make you suspect somebody watching or approaching, frames cropped just right to suggest somebody hiding outside of it. There are lots of intense scenes taking advantage of scary places and situations: lonely hospitals at night, the vulnerability of being drugged or going under the knife, coming home when your family's asleep and you think someone else might be hiding inside, women walking to their cars alone at night, a young woman coming home with a man she doesn't know (and oh shit, it's Michael Ironside!).
With the exception of maybe one minor nurse character who keeps talking about getting laid, the characters are stronger and more sympathetic than in most slasher movies. They also exemplify the misunderstood feminist themes of many slasher movies. The villain is explicitly a bigoted woman-hater, the clear heroes are both women who represent what he's against. Lee's producer (William Shatner, who was in one of the Star Treks I believe) keeps trying to help her. She probly should just accept his help, but she brushes him off and manages to survive without him coming to the rescue. He does tell her that this guy is after her for being a strong, opinionated woman.
Sheila meanwhile is obviously very good at her job and under pressure, very self-reliant, a young mother of two, divorced, who now has a girlfriend living with her. It's possible she survived an abusive husband like the woman in the trial or like Colt's mother, but if so she came out strong instead of damaged. Not GIRL WITH THE DRAGON TATTOO I'll-fuck-you-up strong, but HALLOWEEN I'm-tougher-than-you-think-so-you-can't-get-me strong.
Shatner, by the way, doesn't cheese it up at all. He's completely solid and not distracting in his small role. He gets one of two moments that I thought were really funny: his sarcastic "Ohhh!" when he hears Lee on the phone telling her maid that the living room has gotten a bit "gamey." The other funny part is when Sheila is calling home to say she'll be late. She doesn't realize that Colt is trying to sneak through behind her. When she talks about "that bastard" who attacked Deborah and what they should do to him when they catch him you can see Colt's just-out-of-focus head turn slightly, like "Hey! I'm standing right here!" In this maniac's mind it's probly out of line for somebody to say that about him. He's a little offended.
But this is not a jokey movie, it's dead serious, and it's intense. There are alot of close calls and false alarms, drawing out the suspense. He sneaks into places where he could really do some damage, then just leaves. For all his bark I think he's really kind of a coward. He'd love to cut through everybody like Jason, but he gets scared. He'll cut the life support on an old lady and take pictures, but when he's got more of a challenge in front of him sometimes he'll chicken out. And he's the only movie killer I've seen that squeezes on a stress ball while stalking. Obviously it's not working. Maybe try yoga?
But these weaknesses make him seem more like a real human being, and therefore more scary. He's not a veteran serial killer I don't think. I think he's a recently-exploded ticking time bomb with a fucked up timer. Nobody knows when it's gonna go off again, just that it's gonna go off.
As much as I like Michael Myers I think this Colt Hawkins is scarier stalking a hospital than Michael was in either of the HALLOWEEN IIs. Luckily this hospital has a nurse who can handle it – yet another win for socialized medicine.