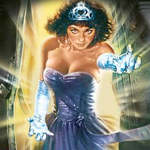 HELLO MARY LOU: PROM NIGHT II doesn't have a whole lot to do with the first PROM NIGHT, but it follows the same basic template of opening with a tragic past incident and then skipping to the present day, when older actors playing some of the same characters await impending tragedy at the senior prom.
This one seems even more CARRIE-inspired than the first one, even having a part where the protagonist is teased while playing volleyball in P.E. and gets hit in the head with the ball and knocked to the ground. But instead of having an obvious HALLOWEEN influence it's the NIGHTMARE ON ELM STREET series. This is, after all, a relatively late sequel – seven years later, in a whole new era of horror.
The classics were just pouring out in 1987: EVIL DEAD II, THE STEPFATHER, THE MONSTER SQUAD, A NIGHTMARE ON ELM STREET 3: DREAM WARRIORS, HELLRAISER, PRINCE OF DARKNESS and many others. There was so much going on in the genre that this didn't make the cover of Fangoria when it came out in October – that honor went to Jason Voorhees, with THE HIDDEN, PUMPKINHEAD, THE UNHOLY, GHOULIES II and WEREWOLF on the sidebar.
When PROM NIGHT came along in 1980 the modern age of horror had been just kind of kicking off. By '87 it was an industry, it had a built-in audience that worshiped special effects artistry and loved franchises. So hey, PROM NIGHT was a big one. Time for another PROM NIGHT. Doesn't even need Jamie Lee. She would've graduated by now. Who was the killer again? The brother? Well, that doesn't work. Do a new one. Make her a prom queen. And put her name in the title. Maybe make it rhyme? (read the rest of this shit…)