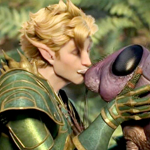 Mr. Majestyk suggested a new post that everyone can respond to with their random business while the RECENT COMMENTS sidebar is broken. Good idea, so here it is. Have at it!
Happy New Year, everybody. I'll have some good new shit for you after the holiday, I promise.
This entry was posted on Saturday, December 30th, 2017 at 10:05 am and is filed under
Blog Post (short for weblog)
. You can follow any responses to this entry through the
RSS 2.0
feed. You can skip to the end and leave a response. Pinging is currently not allowed.