Y.K. Kim is a motivational speaker, author of books with titles like Winning Is a Choice and The New American Dream. He sells a 5-CD set called U.S. National Exercise that boasts "It's amazing! You can even exercise while driving without any extra time!" On his websight he's quoted as saying, "Success: 1% is the idea, 99% is action. Put your goals into action, never and ever give up until you achieve your goals."
In 1987 his goal was to make an action movie.
Kim stars in and directs MIAMI CONNECTION, a crazy low budget Orlando production about a coke gang that gets mad at a rock band for taking over their club gig and sends ninja bikers to kill them. I guess it's in a similar genre to STUNT ROCK, but with less stunts and funnier rock with more emphasis on keyboards. The band is called Dragon Sound. They perform while wearing their taekwando gis (or at least the pants and belts – they go shirtless alot). A song that appears on the soundtrack more than once includes the catchy chorus:
"Friends forever / we'll be to-gether / We're on top cuz we play to wi-in / Friends for eternity / Loyalty, honesty / Stay together through thick and thi-in…"
Other songs are harder to decipher so you kinda do a double take every time you catch a lyric like "Taekwando is a way of life" or "We must conquer the evil of the ninjas."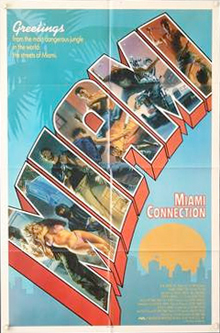 The band all live together and are all orphans. Kim might be their martial arts instructor, because he's the only one who's Asian. A tall skinny white guy is dating a girl who has just joined Dragon Sound as a singer. She goes to University of Central Florida, studying computer programming. Her brother pays her tuition, but she doesn't like him because he's very jealous and hangs out with sketchy people – I guess she doesn't realize that he's high up in a ninja drug gang. When she takes her boyfriend to meet him he shows up wearing a sleeveless camo shirt, fingerless gloves, dangly fang earring and backed by about three carloads of toughs in similar outfits.
It's one of those movies where they have no choice but to take whatever dudes they know and put sunglasses and vests on them to pretend that makes them intimidating. The main guys do seem like actual martial artists, though, it's not Dolemite style.
There are a surprising number of scenes involving the band going through their mail. I guess they gotta establish the mail routine in order to set up this dramatic scene where a character hears from his biological father for the first time:
The ninja clan/drug gang is real worried because the one guy's sister has been hanging out with Dragon Sound, so that's what leads to the huge loss of human life in the movie. I mean, you could see why they would be upset. When the guy in the clip goes to meet his father for the first time they get attacked by ninjas ("Oh, ninjas!" he says) and next thing you know the nice boyfriend is shirtless running around in water screaming and stabbing ninjas to death with a sword. There's a weird amount of screaming in the action scenes, both by the people doing the stabbing and the people getting stabbed.
The leader of the ninja clan wears white, but is not what I consider a White Ninja, because he's not Caucasian, he's regular Asian. I guess he wears white because he's a Cocaine Ninja. A traditional black ninja outfit helps you blend into the night and the shadows, but this guy might need to blend into a huge pile of coke. He mostly appears in the movie in an advisory capacity, telling the other guy that he better do something about Dragon Sound. But I will go ahead and qualify him as a good villain because of the scene where the one ninja that survived attacking Dragon Sound comes to him and says, "Boss – everybody's dead!" The Cocaine Ninja responds to the news by beheading the guy and then laughing for a long time.
The most enjoyable moments in a movie like this are never the fights, they're the strange things that would probly never be filmed or left in if it was made by professionals. There's alot of guys jumping into convertibles to show off, but why do they leave in the shot where one of the heroes tries to do it and doesn't quite make it? I don't know, but I'm thankful for it.
My favorite scene is probly the one where a guy representing the previous house band at the club (I'm unclear but I believe the old band was associated with the coke ninjas) gets in a big argument with the club owner for booking Dragon Sound. While most of the acting in the movie is terrible, this one part almost seems like an actual argument between two crazy assholes. The best part is that the one guy hates Dragon Sound because they're for dumb teenagers and the club owner hates his band because it's not. "YOUR MUSIC'S FOR OLD PEOPLE, BUDDY!" he yells at the top of his lungs.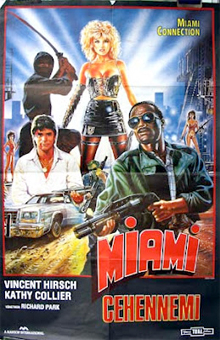 I heard about this movie from some ex-Seattle people who are now in Austin. This guy Zack Carlson (co-writer of the excellent book Destroy All Movies) has an encyclopedic knowledge of these type of movies, and he sort of discovered this one. I guess he does a thing at the Alamo Drafthouse where he shows the first reel of a bunch of the prints they've acquired, and this one blew everybody away. How could it not? The first reel has a Miami Vice type drug deal attacked by ninjas, it has bikers, it has Dragon Sound.
Zack's love for the movie has led to Drafthouse Films acquiring the rights and announcing plans for a limited theatrical release followed by special edition blu-ray and DVD. It's funny, this movie might as well have been engineered to be re-discovered ironically by Austin hipsters. (I don't mean that in a bad way.) The clothes, the music, there are even characters with modern hipster beards. It's almost too good to be true. I wonder if anybody will think it's one of these fake retro cult movies like NORWEGIAN NINJA, HOBO WITH A SHOTGUN or THE FP.
I've made this point before, but movies like this are kind of like what they call "outsider art." They have the same unpolished appeal and the same uncomfortable feeling because there's a thin line between appreciation and condescension. We like this movie because it offers these weird things that you don't get in a movie made by professionals, and that includes really terrible acting and dialogue that, let's be honest, we're laughing at. But this one is just so amazing that it exists – made in a city not known for film production, by enterprising outsiders that did a surprisingly good job of cramming exciting things on screen, with all the perfect dated elements to be really funny and appealing decades later, plus characters that don't fit the standard action hero mold but seem unaware of that fact.
There aren't many movies of this type that play this well. And not many that have a gimmick as '80s Saturday morning cartoon as an orphan taekwando rock band by night fighting ninja crime by day.
God damn, these fuckin songs tormented me all through the next day after watching the movie, they got stuck in my head. Be careful. I'm sure they'll probly try to do a soundtrack album if the masters are available, but I hope they'll stop and think it through first. It could be dangerous. It's really cool that they're gonna be sharing this movie with a wider audience than it ever got before, but they gotta be aware of the consequences of putting the song "Against the Ninja" into people's brains. [UPDATE FROM THE FUTURE: I still get this song stuck in my head but I ain't complaining anymore. The ultimate Jem and the Holograms meets Chuck Norris Karate Kommandos fever dream anthem. It's a classic.]
But you know, it's like the old saying goes: any movie that has ninjas, bikers, a beach scene and taekwondo guys playing guitars and keyboards has a higher than average chance of being worth watching. It sounds too good to be true, but it lives up to it. It's surprisingly well-stocked with craziness and weird nuances, and will play great with audiences if they can get them into the theater.