Part 3 is from 1987 (nine years after part 2) and it ups the ante even more. This is a great series because each is inventive and doesn't just follow the formula of the previous one. This one opens with an outstanding standalone scene about a woman giving birth in the back of a cab. A cop is trying to help but as soon as he sees the baby he pulls out his piece and starts firing. Next we see police investigating a church where the baby crawled to die. They talk about the off screen corpse at the end of the trail of blood – more of the expertly staged unseen-mutant-baby that's the trademark of the series. "It took four bullets to put this thing down," one of them says.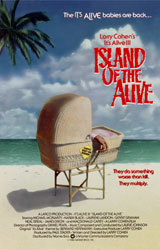 But the story is about Stephen Jarvis (Michael Moriarty), father of a mutant baby going to court to try to save it from being executed. He admits the baby scares him shitless but he doesn't want it to die. So after a lengthy court room drama scene debating whether is son is even human, Jarvis makes the selfless decision to walk up to the cage, tell the baby he needs to prove to "these assholes" that he's human, and puts his hands inside the cage. The judge is impressed enough to order no more executions of the babies, instead they find a remote island to exile them to. Not just an ordinary island, though. An ISLAND OF THE ALIVE!
One thing I like is the episodic structure. It has a bunch of things on its mind, not just the island. As in part 2, we see how the mutant baby has affected the parents' relationship. They don't even talk, and blame each other. He gets screamed at like a rapist when a girl who picked him up realizes who he is. His career as an actor in commercials is over because nobody wants their product associated with him and his defective genes. The lawyers on the case convince him to cash in with a tell all memoir, but he still ends up selling children's shoes a few years later.
Of course, we also get to the island. A few years later the government wants to find out what happened to these babies. It's kind of like THE LOST WORLD: JURASSIC PARK 2. Jarvis goes with the team, which was not a good idea on the Man's part. He wants his son to be left alone, he's not gonna help the government out. It turns out the babies have grown to full maturity and even reproduced. They look like giant babies crossed with John Merrick. I'm not sure what they've been eating or what type of mutant baby pasttimes they have been enjoying, but they do not welcome the humans to their island. That is unless clawing and eating is the mutant equivalent of giving them a lei.
Moriarty makes the movie great. His sense of reluctant humanity makes him heroic, and he deals with his dilemma with a dark sense of humor that makes people uncomfortable. He tells jokes that nobody laughs at and he doesn't care, because they're for his own benefit anyway. His business card says "Father of the Monster." When they get to the island he says they should've brought some clowns. "Kids love clowns."
The baby effects this time are mostly stop motion. They look really cool but take you out of the movie more than the puppets did. Once they're grown up they're rubber suits and you can't help but laugh whenever you get a glimpse of those goofy fuckers. But part of what I love about these movies is that they take such an absurd concept and treat it seriously – even more seriously than most exploitation movies since they're obviously interested in reproductive issues, STDs and other Serious Shit of the time.
IT'S ALIVE is the rare series where each chapter is great in its own way. I don't want to say it's a trilogy since it wasn't designed to tell one overarching story. But they do a good job of topping themselves each time they decide to do another one. Good job islanders.