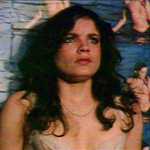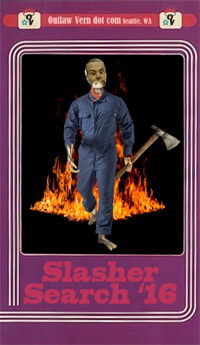 a.k.a. SNAPSHOT
a.k.a. ONE MORE MINUTE

I'm including this as one final Slasher Search '16 because I came to it by looking up the Australian screenwriter Everett De Roche (LONG WEEKEND, ROAD GAMES, RAZORBACK, LINK, STORM WARNING) to see if he ever did anything slasher-ish. This one, which was listed as ONE MORE MINUTE on IMDb, seemed promising with its stalker storyline, and then I figured out I had heard of it before because it's released on DVD under the title THE DAY AFTER HALLOWEEN. For some reason I got a thing for horror movies set on specific days, so that stuck in my head.
But actually that title is purely exploitation and doesn't describe the movie at all. There is no Halloween content, it happens over more than one day, and in fact it's mentioned that it's winter. This is Australia, so that would make it June, July or August, and therefore not the day after Halloween. The title on the opening credits, SNAPSHOT, makes alot more sense.
This is also not a slasher movie, and barely a horror movie, but it does include stalking and building tension and is actually quite good.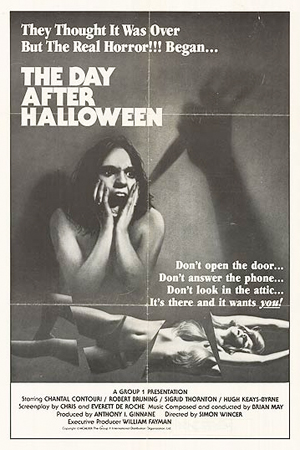 Angela (Sigrid Thornton) is a young hairdresser in Melbourne. She still lives with her mom and little sister even though she doesn't get along with them very well, and she's trying to dodge her ex-boyfriend Daryl (Vincent Gil, the Nightrider in MAD MAX), who drives around in a "Mr. Whippy" ice cream truck and won't accept that they're not getting back together.
Madeline (Chantal Contouri) is some kind of fashion industry big shot who horribly parks her Mercedes out front, storms in in her fur coat and demands to be styled by Angela. She throws her weight around and pressures Angela to "reach out and grab life by the short and curlies" by leaving her job to go meet a fashion photographer friend of hers.
Lynsey is busy taking pictures of a dead mouse, and absent-mindedly agrees to use Angela in a cologne ad, barely even looking at her. I didn't notice at first that this strapping artist is Hugh Keays-Byrne, a.k.a. Toecutter in MAD MAX, a.k.a. Immortan fucking Joe in FURY ROAD.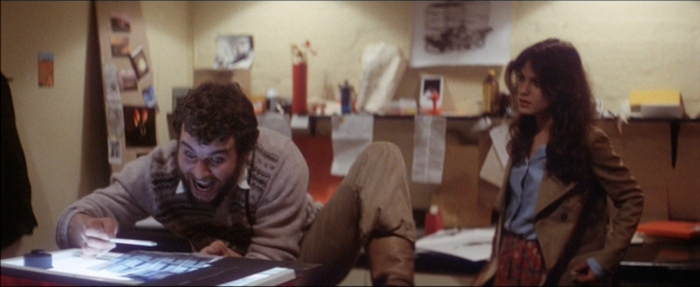 He's very good in this, but do you think he ever once thought "I bet 35 years or so from now I will wear a mask and plastic muscles and it will be my most iconic role"?
By the way, here is a picture of the cast of FURY ROAD at a premiere. They're all beautiful, talented people, but which one would you say stands out as having the most interesting style?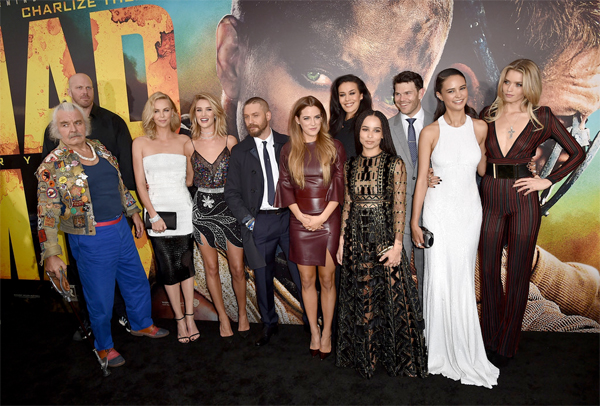 In SNAPSHOT he has a few little touches. He wears a big fur hat. He makes some funny moves, like when he first shows Angela the magazine she's in by tucking it in his pants and opening his coat like a flasher.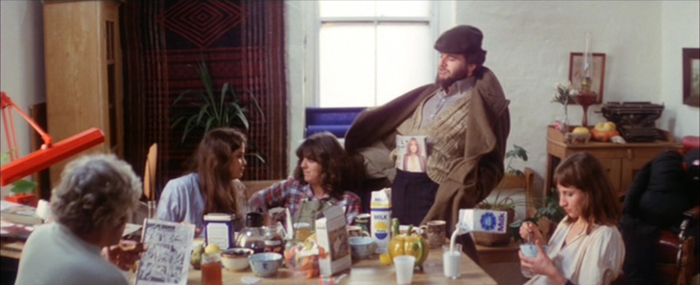 For some reason I thought it was him in another scene doing a weird rockabilly performance in a bar, but it's some other weirdo. The guy's lip curl is out of control, and he's made up like a kabuki version of Marlon Brando in THE WILD ONE. I wonder if that guy is well known in Australia?
Anyway, Angela becomes a model to the tune of a song called "Angela" by Sherbet. A picture of her walking topless in the ocean becomes the ad. She's horrified that it shows her face, worries about being recognized, worries about her mom seeing it. But in a private moment she looks at the picture and smiles, seeming to feel empowered by it.
This kind of covers similar territory to NEON DEMON, without the cool surrealism, but with much more compelling characters and more coherence in its themes. The story is all about other people trying to control Angela's choices about love and her body and her sexuality. Weirdo Daryl thinks he has a right to keep cornering Angela over and over again and confronting her about that they should be together and that she's disappointing her mother. And her mother thinks she can tell her to get back together with Daryl, and question her about how much money she makes, and disown her when she finds out about the ad.
The ad, though she ends up proud of it, is sort of forced on her by Lynsey. At first she doesn't know she'll be topless. Then she's promised her face won't be visible. She only gets to see it when it's already in a magazine. And while she's getting used to that they spring it on her that it's going to be on billboards. 400 of them. They haven't bothered to listen to her, so they have no idea how she feels about it.
During the photo session, some old guy with a Sherlock Holmes pipe keeps coming up and watching, even after they tell him to leave. Hey, if there are boobs there, it's my business.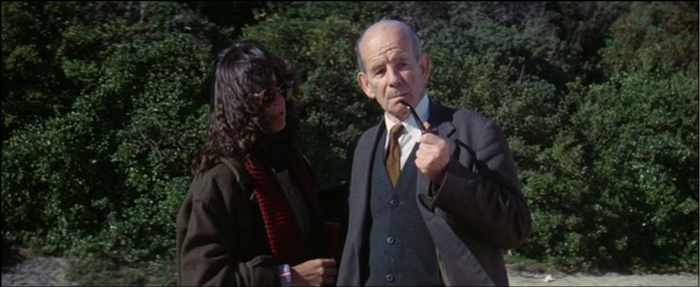 Men think that offering her a job is justification for groping her. When she goes to bars, older men smile at her from across the room and feel they need to come over and make conversation. One of these turns out to be Elmer (Robert Bruning, NED KELLY), a friend of Madeline's who seems real nice and offers to help her career. But after a group dinner that becomes just the two of them, and a drunken photo session for fun that becomes trying to get her to take her shirt off, she realizes this guy is full of shit too.
Even Madeline, it turns out, is trying to get down her pants. When she makes her move, Angela is confused and reacts in a regrettably homophobic way. "You might think we're a couple of old dykes!" This makes Madeline one of many suspects for who could be stalking Madeline and leaving a pig's head in her bed, but really it plays with sympathy and sadness toward Madeline's predicament, not like she's a threat.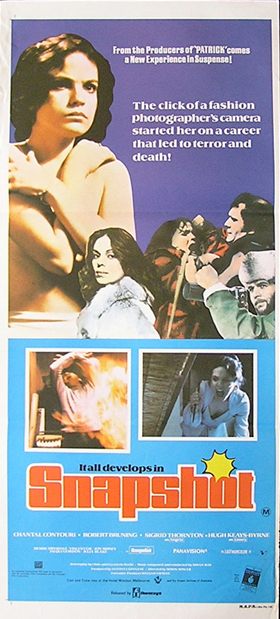 Thornton is perfectly cast as Angela. She's beautiful and pulls off the fashion model poses, but also seems very unsure of herself. She seems to be in a near-permanent state of taking a deep breath for bravery. She thinks she's an unqualified outsider in this new career, but she tries her best. I found her riveting enough to be very wrapped up in this movie about modeling.
There are a few thriller type chase scenes. She runs from the Mr. Whipple truck, hears its music approaching like it's the JAWS theme. But mostly the horror is in a suspenseful framing device: in the opening, Madeline runs up to a building screaming Angela's name as firefighters find a burnt corpse in a room wallpapered with her topless photo. So it's always in the back of our minds that this is gonna happen, and we try to puzzle together how.
The end credits are accompanied by a sad Brian May theme and a slide show of the photos that Elmer took. So you see her go from smiling and goofing around to realizing what's going on and turning miserable.
This is a very strong movie debut for veteran TV director Simon Wincer, who later did QUIGLEY DOWN UNDER, HARLEY DAVIDSON AND THE MARLBORO MAN, FREE WILLY, some Young Indiana Jones Chronicles, and of course one of cinema's greatest movies on the topic of evil slamming, THE PHANTOM.
* * *
Note: I also watched one called NINE MILES DOWN from 2009, because I noticed it was written by De Roche and directed by Anthony Waller, who did the very good MUTE WITNESS. Unfortunately it's not particularly exciting. Adrian Paul plays a security contractor investigating a massacre at a scientific outpost in the desert. He finds a Daisy-Duke wearing scientist and things get weird and he's either having hallucinations based on a tragedy in his past or he's witnessing apparitions from an entry into Hell or something. It's not terrible but the cast really can't pull off the dialogue and it's not particularly well produced. I did like the part where somebody in a biohazard suit reached out to him and appeared to him as a psychedelic demon. But there's not enough interesting here to even be worth doing a full review.
Note 2: It was a pretty sparse Slasher Search this year, but I feel good about the variety of horror movies that I reviewed overall. Although we'll be getting back into action and other genres now, there will be plenty of horror written about in this post-Halloween period, including a few of the movies that you guys recommended to me.