By part 4 the SUBSTITUTE series is almost entirely divorced from the theatrical original. It's the only one not written by Rocco Simonelli and Roy Frumkes – this time it's Dan Gurskis, who apparently did an uncredited rewrite on part 3. It's Treat Williams as Karl Thomasson again, but he's not even really an undercover substitute. He discusses it that way, but really he's given the job of history teacher at a military academy under slightly sneaky but not really clandestine circumstances. He's not THE SUBSTITUTE anymore, he's THE NEW TEACHER.
For once he's not on a mission on behalf of a teacher – this time an old general friend is worried about his nephew at this academy, and is sending in a team to check things out. He was right to be worried because the head of the academy, Colonel Brack (Patrick Kilpatrick), is an open white supremacist maniac who's training an elite corp of neo-nazis called "The Werewolves" and sending them on terrorist bombings of minority owned power plants (?).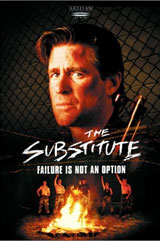 The bad guys are of course the neo-nazis, including a prick who denies the Holocaust during class. It reflects poorly on the military that this was able to go on for a while, because they're not very subtle about it. In fact, their symbol is a slightly altered swastika. Real subtle, fellas.
Once again Thomasson partners with one of his loyal military buddies. He also picks up Radio Raheem himself, Bill Nunn, who's a more capable version of the crazy Vietnam vet janitor from part 2. He's supposedly the handyman on campus but he's actually undercover and has a stash of weapons buried in the woods. And a weird thing about digging up bodies.
A few of you said this was your favorite of the series because of the neo-nazi bad guys, and I'm guessing maybe you also enjoy it because it's more sloppily put together than the other ones, causing a bunch of weird moments that I can't really explain. Like the opening scene, an unrelated mercenary mission on the Bolivian border. Thomasson and a partner kill some soldiers who are shooting at them, and Thomasson gets depressed when he looks at the bodies and realizes how young they were. Nicest moment in the movie. But why does the dead body have the werewolves symbol carved in his head? I have no idea, and the director (Robert Radler again, same as part 3) doesn't give any hints on his commentary track.
And what's up with the scene at the Officer's Ball? I don't really understand military protocol, so maybe it makes sense that they'd have a dance at 3 in the afternoon. But I still think it's weird that Thomasson tells his date (Angie Everhart) he's going around the corner for a second, then leaves the building to hide in the back of a truck and spy on the werewolves on a 3-hour drive to blow up a power plant. He already had to ditch her right before sex, now he does it again and doesn't even make an excuse or mention it again. And it's also kind of weird for a movie like this that he just watches and doesn't try to stop the bombing, but I guess that's more realistic, because what's he gonna do?
It's also kind of goofy that the white supremacist colonel has a Korean as his main henchman. Radler even says on his commentary track that he and everyone involved thought it was "a stupid idea." But they had to shoot it fast and Treat Williams had experience fighting with Simon Rhee, the stunt coordinator for both this and part 3. Colonel Brack is kind of inconsistent anyway. In the climactic face off he yells "Sew your multi-culturalism in Hell!" and his last line is "It's just the Holocaust. Get over it. RACIAL PURITY!" But just a little bit earlier he was spouting that cliche about how in Chinese the word for "crisis" can mean both "danger" and "opportunity." A little multi-cultural for a guy like that.
Here's a nitpick for you: at the end they visit the grave of a character who died during the story, and somehow his tombstone is aged and dirty.
At one point I almost suspected Everhart's character of being a Substitute in her own right. She has to leave, saying "I'm a substitute at an emergency room in Atlanta." She's not a soldier as far as we know, she's a doctor. But still, what if she's undercover too? It's entirely possible that an emergency room doctor was beaten up by– I don't know, let's say by corrupt nursing assistants who are stealing from the pharmacy. She goes undercover to find out who's responsible and kick ass, or whatever. It could happen.
Thomasson gets involved in a little bit of action. There's a part where the werewolves blow up his car and shoot at him, so he steals a bulldozer and crushes their car until it blows up. He runs in front of explosions and has a long fight with Rhee, and did most of his own stunts. I thought the best action though was a jokey scene where the academy's martial arts instructor chooses him as a volunteer to demonstrate some moves on but Thomasson keeps flipping him and making him look stupid.
As hard as Williams seems to work, you don't watch a Treat Williams movie for the fight scenes. This series is more about the story than the action. I enjoyed this one but not as much as the others. At this point it has pretty much abandoned the original gimmick of "the schools are out of control – but what if a badass mercenary pretended to be a teacher?" There are only a few classroom scenes and with him fighting against other military guys it doesn't have the same military skills vs. criminal skills tension, it's just the usual contest to see which one is the most elite soldier, the good guy or the bad guy. Could go either way.
But it does make an effort to be thoughtful about mercenaries and the military. In conversation with Everhart he claims that he doesn't do things for the money and that he's not a mercenary anymore (which is weird since he seemed to be on a mercenary mission in the opening scene). Also, unlike the other Thomasson stories he actually does resolve the original problem. In fact, it's meaningful that he just stands there during the final conflict instead of killing the bad guy. His job is to check up on the nephew, so he lets the nephew prove that he's learned a lesson.
The subtitle in this one is doesn't specifically apply to this story. In fact, it's a scam. Check out the tagline at 1:16 in the trailer for the original SUBSTITUTE:
and note that there's no "4" written on the part 4 DVD cover. Nope, this is one of those part 4s that's designed to be rented by accident by somebody who wants part 1. It's a substitute SUBSTITUTE. It's like if they changed the name of SUPERMAN IV: THE QUEST FOR PEACE to SUPERMAN: YOU WILL BELIEVE A MAN CAN FLY.
I've noticed in the comments that people seem to have different ideas of which is the best sequel. Personally I'd rank them in order – #1 is best of the series, #2 second best, etc. They keep getting weaker each time. But I gotta say I enjoyed watching all of them, and you don't get that too often.