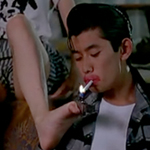 In NASHVILLE, Robert Altman used the city to represent America in some way. In MYSTERY TRAIN Jim Jarmusch kinda does the same thing with Memphis, but the joke is that it's three stories about Memphis through the eyes of foreigners. For all they know the whole country hangs Elvis portraits in their hotel rooms.
The first and favorite story is of two Japanese tourists, Jun (Masatoshi Nagase, THE HIDDEN BLADE) and Mitsuko (Yuki Kudo, RUSH HOUR 3) who arrive in Memphis on a train. I know, I thought this was gonna be a remake of MURDER ON THE ORIENT EXPRESS, or possibly a story about a talking train that solves mysteries, but most of it doesn't have to do with the train at all. You just see the train going by every once in a while. What the "mystery" part of the title means is, well… an unanswered question.
I like this story because I like these two. Mitsuko is obsessed with Elvis, Jun never misses an opportunity to say that Carl Perkins is better. Fuckin show off. He has a carefully maintained rockabilly rebel persona with slicked back hair, a white undershirt tucked in under a big belt buckle, etc. He's very stoic, almost never smiles or says something openly nice, but it rarely dampens her enthusiasm. In one great scene she tests his cool by making goofy faces, then putting on alot of lipstick and sloppily smearing it all over his mouth via kiss. He manages to stay completely deadpan with his clown makeup on, smoking a cigarette that she lights for him with her feet. But he gives a tiny smile when she walks away.
That's mostly what this movie is about, goofy little character moments done very dry and quiet, in long takes. So it's a Jim Jarmusch movie. (read the rest of this shit…)