For 20 years we have known the legend of Steven Seagal. He was the aikido teacher, the white man who ran a dojo in Japan and later impressed people in Hollywood so much they made him a movie star. He wrote and produced many of his movies, directed one of them, created a unique persona. He got more and more into Buddhism and Zen, sometimes working them into his movies, eventually being declared by somebody as a reincarnated Tulku.
During this decade, suddenly, we learned that he was a bluesman too. It seemed ridiculous at first, but it was true. It seemed so out of the blue that you could assume it was just a new phase he was going through, but looking back over old articles I found references to him playing guitar even back in his youth in Japan. And I heard and saw him with my own ears and eyes, and he could play, and his band was tight.
So we got used to that, now all the sudden you're telling me he's been a cop for 20 years? In his spare time, like in between the 37 movies he's filmed? Man, I have trouble working a day job and writing movie reviews, this guy is filming several movies a year, recording albums, going on tour and chasing carjackers?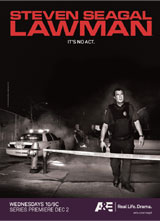 The first I ever heard of Seagal's police work was on a February 2007 episode of a British comedy show called The Friday Night Project. In Seagalogy I wrote about the episode and mentioned, "He also makes some very questionable claims about being Deputy Chief of his 'local community' of Jefferson Parish, indicating at the prompting of an audience member that he has been involved in shootouts there." I'll be honest, I didn't believe him at all. But then I heard he was making a reality show about it.
STEVEN SEAGAL: LAWMAN started Wednesday with two half hour episodes on the A&E network. They each begin with this text:
"For 20 years, Steven Seagal has been a deputy in the Jefferson Parish Sheriff's Office, a job he's kept out of the limelight… until now.
This program shows real people being arrested by real police officers. They are presumed innocent until proven guilty."
(So it's one part badass, one part legal disclaimer.)
EPISODE 1: THE WAY OF THE GUN
Early in episode 1 there's a reality show version of the ABOVE THE LAW prologue: Seagal narrating his life story over black and white photos of him teaching aikido. He explains that 20 years ago Harry Lee, then sheriff of Jefferson Parish, brought him in to teach weapons retention tricks to his officers, and that he was impressed with what he was doing and asked him to join the force.
Cut to now, with Seagal and four others travelling in two SUVs. The A&E websight calls them "his hand-selected elite team of deputies," but I'll call them the Seagal Squad. The Seagal Squad are patrolling what Seagal calls "the 'jects". They're armed with guns, tasers, spotlights, but most importantly Seagal's super power:
"As a lifelong practicioner of the martial arts I'm trained to remain calm in the face of adversity and danger. When the world is speeding by for others I see things for what they are. A cock of the head, a foot planted forward or back, a flip of the wrist, they all tell me something – whether someone's gonna fight, pull a gun, or run."
I guess it makes sense that his experience in martial arts would make him pay special attention to those specific things, but you gotta laugh because of the sound effects, white flashes and slo-mo the show uses to show what the world looks like with Seagal Sense. This, thankfully, will be a recurring theme on STEVEN SEAGAL: LAWMAN, as will Seagal saying that he's a life-long practicioner of the martial arts. He mentions it at least 2 or 3 times per episode, both in narration and in conversation.
LAWMAN's first taste of action is to join in the pursuit of a carjacker. Seagal tries to navigate from the passenger seat, but his partner Col. John Fortunato says, "Steven, let me drive." So don't go thinking the super powers means this show is one big ego stroke for Seagal. They're already showing him annoying his partner. Fortunato doesn't want to be told "where the holes are," so Seagal can only contribute by saying encouraging phrases like "Get him Johnny!" and "That's what I'm talkin bout!"
The police manage to box the carjacker in and capture him. In a movie we'd see Seagal take the guy out himself, here we only get to see him run up and join a pigpile already in progress. It's unclear what exactly is going on – someone keeps yelling "Taser! Taser!" but I'm not sure if that means they're tasering him or requesting a tasering, but before things get more out of control Seagal yells, "Everybody calm down! We got him!" His training to remain calm in the face of adversity and danger will help prevent any Rodney King type overreactions.
Next, Chief Seagal helps his friend Capt. Alex Norman practice marksmanship so he doesn't fail his annual weapons test and end up behind a desk. Seagal refers to himself as "a master shooter" and compares his gun technique to Zen archery. After teaching Alex to shoot "more Asian" he sets up matches and shoots at them, saying "If you're really good once in a while you can light a match. But that's some super shootin, boy."
I'm sure some people will say that the shooting is faked, but from the Captain's reactions I get the impression that Seagal truly is a good marksman, at least at close range. He seems to actually shoot the head off of a match: "Blew the top of it off, but not good enough. I want to light it. Sometimes you win, sometimes you lose." (That's what he did in PISTOL WHIPPED, by the way, the super shootin.)
Seagal and Fortunato get flagged down by the owners of a small bar, and they convince a young drunk to leave because he's causing a disturbance. But then the crowd figures out he's Steven Seagal and everybody wants to shake his hand. Eventually Fortunato seems annoyed again and says "Let's get out of here."
Throughout this episode whenever Seagal's in the car talking to the camera about police procedure or aikido or something they cut to shots of Fortunato swallowing. I'm not gonna try to read his mind, but it looks to me like he's biting his tongue. Maybe he's still mad about Seagal telling him to go right.
For the final call of the episode the Squad check out some suspicious persons, who make a run for it. They catch one guy and find a gun on the ground. It almost turns into ASSAULT ON PRECINCT 13 as a mob of shadowy-faced thugs crowd around the scene. The Chief uses his Seagal Sense to see that they're trying to intimidate the poor guy so he knows if he gets them in trouble he'll have to worry about more than just Seagal.
Alex just barely passes his shooting test, but Seagal tries to keep his spirits up. "You know, I don't know about your score, but if this were in the street, and that's the way you shot – he's dead."
(unless it was Screwface)
EPISODE 2: THE DEADLY HAND
Seagal and Fortunato are patrolling a black neighborhood late at night. Seagal uses his Seagal Sense again, saying "Awareness is the key to survive." He sees a guy putting a gun in his pocket so they pull up and the guy runs. They don't catch him, but he drops his gun and cell phone hopping a fence. This show is kind of like SEVEN, it's more about following the trail than seeing the actual crimes. But Fortunato is happy, because one more gun in the evidence locker is one less gun some kid might point at him or his friends.
Next Seagal brings his Squad to the training academy for a little aikido demonstration. He flips an aikido student and shows the cops what finger-holds feel like. Later Alex says "I had a flashback from ABOVE THE LAW!" Demonstrating moves on Alex Seagal says, "Here's a hole. Look at that," and lightly slaps him. "I found a hole."
Remember? That's what Seagal was looking for in the high speed carjacker pursuit last episode: holes. I think we've just learned one of the secrets of Seagal Sense. It's not just looking for the flip of a wrist, it's also looking for holes. Like a bird is looking for worms, like a homeless guy is looking for change in payphones and newspaper machines, Seagal is looking for holes. Shit, even when they pig-piled on that carjacker he found a hole, that's how he got in there. I hope Colonel Fortunato will be more sympathetic to Seagal when he imagines the world through the Chief's eyes. It's like Predator or Terminator vision, those white beams going out scanning for holes. He can't help it.
Man, I don't know about you guys, but I'm gonna start looking for holes.
On patrol, the Squad gets called to a parking lot where 15-20 people are brawling. They turn their lights on, it goes to a commercial… and then when they get to the parking lot the other officers have already broken up the fight and handcuffed two blurred-faced suspects. Seagal determines that "the white boys in the silver truck over theah" are the ones who "started it," but the other officers explain that they also need to arrest the black gentleman for running after the white boys after the cops told him to stop. You can't see his face but the black guy is shirtless, tattooed, taller even than Seagal and has a voice so low I'm honestly not sure if they altered it to hide his identity. His rowdiness inspires Seagal's best line of the episode: "In Zen, even if somebody has to get angry we try to get angry and let it go. And this gentleman is not a very good Zen practicioner."
He's right, too, because when they get the gentlemen in the back of the car he doesn't meditate, he yells a variety of opinions (all negative, I'm guessing, but they're bleeped out so I could be wrong) and then leans back and kicks out the side window. Seagal gets out of his car and slams the door hard like he's about to go spank the guy, and for a second I thought he was the one who shoots a taser through the broken window (a hole), but it turns out it's (I think) Sgt. Larry Dyess, who looks kind of like Seagal from the back. (He's like one of those guys that a bad guy comes up and touches him on the shoulder but he turns around and it's not Seagal.) The tasing victim is stupid and getting himself into trouble over nothing, but this whole mess sort of makes you think they should've just let him go after the white boys left, would've been easier on all parties, including the tax payers.
Later on that night, Seagal and Fortunato are driving around and Seagal says "Let me look at these guys…" There's a sound effect as he looks at them with Seagal Sense and senses alcohol. In a really uncomfortable scene, the officers stop the two young African-American men who are just entering their car in front of their house. They comply but with the frustrated looks of men all too familiar with being pulled over for Driving While Black, and having a hard time believing they're being stopped for Intent To Drive While Black. They have an open container, but they haven't been drinking. One has a gun, but it's registered. Whenever they try to explain themselves the officers tell them to shut up.
Once everything is cleared up the Squad decide to let the two go despite the open container, and Seagal seems to feel bad about it so he has a pep talk with the gun owner, saying they're not looking to harass him, they're looking for murderers. The poor guy looks exasperated, with his head down, half-heartedly agreeing like he's trying to end a long argument with his mom.
At the end of the episode Seagal is back at the training academy trying to teach rookies how to hold onto their guns if someone tries to steal them. He seems much more at home teaching than riding around in a patrol car. This takes us back to that legend, it's what he's been doing since before ABOVE THE LAW, and it's how he hooked up with the sheriff in the first place, as explained at the beginning of episode 1. I don't know how much he really ever patrolled before making a TV show out of it, but this part I believe is real. So it's nice to see him thank them and bow to them at the end. This is helping the police and the community more than using his Seagal Sense to harass innocent young men as they leave their houses.

The blurring of the line between fictional persona and reality is another way this show brings us back to the original legend of Seagal. When ABOVE THE LAW came out Seagal was known for implying he had done shadowy deeds for the CIA, and there are many other stories about his days in Japan or even on set, stories sometimes meant to make him sound awesome, sometimes meant to humiliate him, and you never know which parts are true and which are false. The same thing happens here with Deputy Chief Seagal. My guess is that he really does help them with training but that the patrol aspect is exaggerated when the cameras are around. But that's only a guess. I like that I don't really know for sure. At any rate, I didn't believe it at all when I first heard it, so as long as some of it is real I'm impressed.
The irony of LAWMAN is that it tries to convince you Seagal is more real than you thought while at the same time managing to emphasize how his movies are fake. In a movie he runs into armed robbers just buying champagne on the way home, in reality he has to drive around trying to spot somebody with an open container. In EXIT WOUNDS he pisses off his boss by blowing up a helicopter and saving the vice president from terrorists, in reality he pisses off his boss by giving him driving tips. It turns out actual law enforcement is alot more boring and petty than in the movies.
It also has the weird effect of forcing Seagal into the role of authority figure. In his movies he's always an outsider even within the system – usually a former black ops guy, but even when he's a cop he's a cop who has to fight corruption in other agencies (ABOVE THE LAW) or his own (EXIT WOUNDS) or gets framed (HARD TO KILL, THE GLIMMER MAN) or goes rogue (OUT FOR JUSTICE). In this show he's stuck being The Man, or at least a guy standing nearby while The Man takes you down.
The guys on the Seagal Squad are likeable characters, and I'm not trying to imply they're dirty cops or anything. They seem genuinely motivated to help people, and they risk their lives to do that, and that's admirable. But there's something kind of disturbing and sad about the one man army who stands up for what's right because no one is above the law being used just to harass young black guys who haven't done anything wrong. And in that case he wasn't just helping, he actually seemed to instigate it. If he hadn't said anything Fortunato would've driven on past and those guys would've gotten to their party on time and everybody would've been happy they brought that bottle of whatever it was.
To be fair it is way more awesome to be harassed by Steven Seagal than to bring the booze to the party, so I'm not ready to support a civil suit by these guys or anything. I'm sure they're laughing about it now. And I have to wonder if they were looking around for Ashton Kutcher the whole time. But still. Seagal has always been popular with what they call "urban audiences," which is why you still to this day hear his name in rap lyrics and probly why ever one of the movie partners listed above is black. I gotta wonder if seeing him involved in something like that changes anybody's feelings about him.
So there are some uncomfortable aspects to STEVEN SEAGAL: LAWMAN, but don't get me wrong, I loved watching it. Like I tried to do with Seagalogy, LAWMAN honors Seagal both as awesome asskicker and absurd concept. It's inescapably funny without being a joke. When I saw Seagal and his band play it was surreal to see the big man up there playing a flying-V, it's just something you never thought you'd see, and at the same time I couldn't help but be impressed by how good he was. Now here he is standing around while people get arrested, and that's enjoyable too.
I do hope some of the other episodes get more humor out of it, though. People do acknowledge Seagal's celebrity, but so far we haven't seen a hilarious look of confusion on a suspect's face when they see him coming towards them. That could be gold. For now, we'll make due with the poor legal gun owner's look of "I can't believe it, I'm just trying to go to a party, I get humiliated by the cops and now Steven Seagal wants to pat me on the shoulder and make me feel better."
This could be a good show. I just hope in the season finale cliffhanger he uncovers proof that one of the other Seagal Squad officers is involved in drug smuggling, so the guy frames Seagal, and the second season will be all about clearing himself and getting revenge.
* * *
Just how badass is this guy? "He knows how to put lead to target." "After what I've seen today, he could take a gnat off a fly's ass." "It's either you comply or he breaks your arm."
Adopted culture: Zen, Cop culture, New Orleans accent, ebonics
Old friends: "The late great Harry Lee"
Broken glass: The not very good Zen practicioner kicks through the window of the police car.
Fight in bar: No, just an argument outside of one.
Innocent bystanders: Those poor guys with the gun and the liquor
Terms of endearment: brotha, buddy, brother, gentlemen, potnah
Politics: "We're happy that it's a legal weapon, but we also feel that firearms on the street are a major threat to society. Thugs are shooting each other, they're shooting innocent people, sometimes by accident, sometimes on purpose, they're shooting police officers, so we think guns on the street are a big problem."
Phrase I could've easily used in this review: Port of Call New Orleans
[ratings]
This entry was posted on Saturday, December 5th, 2009 at 12:45 am and is filed under
Documentary
,
Reviews
,
Seagal
. You can follow any responses to this entry through the
RSS 2.0
feed. You can skip to the end and leave a response. Pinging is currently not allowed.